Military Transcript Evaluation Policy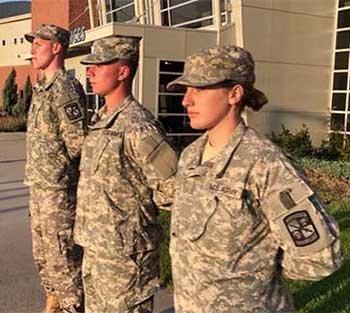 The University accepts many forms of Professional Military Education (non-academic experience and training) that have been evaluated by the American Council on Education ( ACE) as academic credit.

ACE recommendations for vocational or technical credit are not accepted as transfer credit.

To transfer military credits: complete your application requirements with an admissions representative and then submit your transcripts directly from the institution or military branch where the credit was earned. An unofficial transcript may be used in the interim to facilitate credit evaluation. Official transcripts must be submitted before the end of the first semester.
Transcript Request Information
JST Official Transcript Ordering - Self Service
How to have OFFICIAL Transcripts sent to post-secondary institutes.
Log into the JST system (

see links at bottom of this page

).


Click on the 'Transcripts' tab at the top of the page, then click the 'Official Transcript Request' tab.


Type in the institute name or part of the name and click 'search' or hit the enter key. For example instead of typing in the 'Some Name University' you could type in 'Some Name'. You may need to scroll through the entire list to ensure you have the correct location.

QUICK TIP: Do

not

use any punctuation when typing in the name of an institute.

If you receive 'no matches found' try using a smaller part of the name.

NOTE: Some institutes only have one centralized site to receive all transcripts.


This will bring you to the order page that will show your name, rate/rank, etc., and the institute name. You will be asked if this is the institute you wish to have a transcript sent to. Pay attention to the delivery method.

NOTE: There are two types of delivery method. Please see the explanation below:

NOTE:

Army and National Guard transcripts can only be ordered to online delivery sites:
Delivery Method: "on-line delivery"
You can order as many transcript as needed for on-line delivery.
Transcripts ordered by 11:59 PM central time will be delivered via the web on the next business day after ordered.
Delivery Method: "U.S. Postal Service"
Only 2 transcripts within 30 days can be ordered due to production and postage costs.
Hard copies will be mailed on the next business day after the transcripts are ordered.
If the location is correct, you will need to click the box at the bottom of the screen stating you have read and agree with the consent statement, then click 'yes'. You will receive a confirmation page stating the request has been completed.
If the location is incorrect, click 'no' at the bottom of the page and you will be returned to the list of campuses to allow you to select the correct location.
You can see a history of where transcripts were sent and when they were ordered by clicking on the 'Official Transcript Request History' tab.
What Do I Do If I Can't Find My Institute/School in the List?
If your institute or location is not in the list, make sure you have the name typed correctly and scroll through the list. If you still cannot find the institute or the location, you will need to fill out the Official Request Form (Click on the link below) and fax it to:
Army and National Guard:
E-mail: usarmy.knox.hrc.mbx.tagd-aarts@army.mil
Toll Free: 1-888-276-9572
Official Transcript Request Form (Army)
Coast Guard:
USCG Institute
5900 SW 64th St, Rm 228
Oklahoma City, OK 73169-6991 Fax: (405) 954-7249 E-mail: CGI-PF-ed_transcripts@uscg.mill
Official Transcript Request Form (Coast Guard)
Marine Corps:
JST Tech/Operations Center
E-mail: jst@doded.mil
FAX: Commercial (850) 452-1909 DSN: 922-1909
Official Transcript Request Form (Marine Corps)
Navy:
Virtual Education Center (VEC)
FAX: 757-492-5095 DSN: 492-5095
E-MAIL: vec@navy.mil
Toll Free: 1-877-838-1659
Official Transcript Request Form (Navy)