Dear Parents and Families,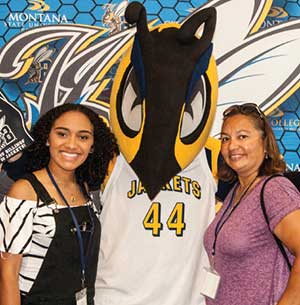 Welcome to Parent and Family Programs at Montana State University Billings. We work collaboratively with parents and families of students enrolled at MSUB. Our purpose is to provide programmatic opportunities and initiatives for parents and families, to appropriately engage parents and families in the academic, social, residential and co-curricular experience, and to connect parents and families with the University and each other.
We are also a resource for any questions or concerns you may have. Do not hesitate to contact us via e-mail or telephone if we can be of assistance. Also, please let us know if you will be visiting campus. We value greatly the opportunity to meet directly with you and share a cup of coffee and good conversation.
In addition to hosting our landmark events, Parent & Family Orientation and Family Weekend, we are involved in many of the major happenings at MSUB. We look forward to interacting with you, the proud parents and family members, at such events.
We also strive to stay in contact with you throughout the year. Our website contains a wealth of information, including the Parent Pages (a great source of information about a variety of topics related to your student's development and experience). As the parent or family member of a MSUB student, you are automatically a member of the MSUB Family Connection. Simply activate your membership by registering your e-mail address so that we can stay connected to you. You will receive our monthly electronic newsletter, information about upcoming events and campus news.
I look forward to working with and meeting you as your MSUB student continues on this amazing journey.
Take care and chat soon,
Josh Hulgan, Associate Dean of Student Engagement
Phone: 406-657-2376
joshua.hulgan@msubillings.edu

Like us on Facebook