University Communications and Marketing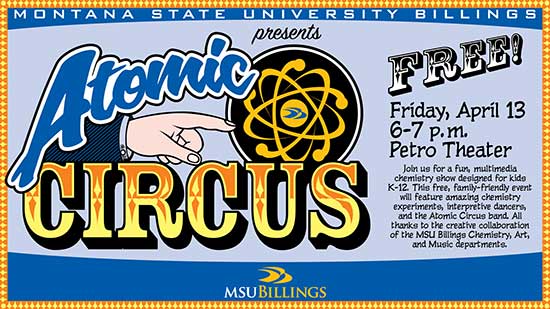 MSUB to host Atomic Circus this Friday
Event is April 13 in Petro Theater at 6 p.m.

Contacts:


University Communications and Marketing, 657-2266

MSU BILLINGS NEWS SERVICES — Montana State University Billings will host an Atomic Circus Friday, April 13 in Petro Theater at 6 p.m. This is a fun, multimedia chemistry show designed for youth in kindergarten through twelfth grade.

The Atomic Circus is free to attend. It is a family-friendly event which features amazing chemistry experiments, interpretive dancers, and the Atomic Circus band.

"We're going to do a multimedia chemistry demonstration show that takes folks both young and young at heart on a journey to the atomic level," stated Matt Queen, Ph.D., Professor of Analytical Chemistry. "We've got amazing chemistry experiments and interpretive dancers to help explore their atomic level explanations, all with a soundtrack provided by MSUB's own rocking Atomic Circus house band."

It is presented by the chemistry, art, music and Extended Campus departments of MSUB.

"While the show is designed for kids K-12, parents will love it too," Queen added.

The Atomic Circus precedes Girls-n-Science event which will be held the following day.

For more information contact Kevin Nemeth, director of Extended Campus at 896-5871 or kevin.nemeth@msubillings.edu.