Logos may be used by MSU Billings faculty, staff, students, and media partners. If you are looking for a Yellowjacket logo or departmental logo, contact University Communications & Marketing at 657-2266.
If you need digital versions of MSU Billings letterhead or City College letterhead created for your specific department, please complete a Design Request Form.
Official Colors
The university's official colors of blue and yellow have been updated as of September 2019. A new blue has been selected to unify the standard blue and athletic blue into a single color. The university also utilizes standard black and white.
Color Formulas

New Blue

Print
2-color: PMS 294
4-color: C=100, M=85 Y=20, K=25
RGB: R=21, G=53, B=109
Web
hex #15356D
Yellow

Print
2-color: PMS 124 (coated), PMS 7405 (uncoated)
4-color: C=0, M=27 Y=100, K=0
RGB: R=240, G=179, B=16
Web
hex #F0B310
University Campus and City College Campus Naming Conventions
The following examples illustrate the proper ways to refer to the university in print or on the web. The full university name should always be used on the first reference.
Montana State University Billings
Montana State Billings
MSU Billings
MSUB
City College at Montana State University Billings
City College at MSU Billings

Keep in mind...
do not use the logos in any color other than the official blue and yellow as shown on the logo page; black is permitted if printing in black and white
do not alter the logos in any way
do not stretch or squeeze logos
do not rotate logos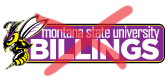 unauthorized color


squeezed logo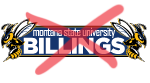 altered logo
All marks trademarks of Montana State University Billings, 2007, 2012, 2017.