University Communications and Marketing
Career Fitness Fair helps students, others 'shape up' networking skills
February 7, 2013
Contacts:
Pat Reuss, Office of Career Services, 657-2168
Aaron Clingingsmith, University Relations, 657-2269
Annual event set for Thursday, Feb. 14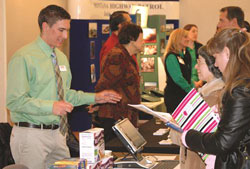 MSU BILLINGS NEWS SERVICES — On Thursday, Feb. 14, Montana State University Billings and Rocky Mountain College co-host the 16th annual Career Fitness Fair from noon-3 p.m. in the Student Union Building on the MSU Billings University campus. This event is FREE and open to the public.
The Career Fitness Fair is sponsored by Billings Chamber of Commerce and Sodexo, and by these 2012-2013 Employer Partners: KSVI/KHMT, Billings Clinic, Yellowstone Boys and Girls Ranch, Eide Bailly, KPMG, and Wells Fargo.
Students and those interested in finding career opportunities can meet representatives from nearly 50 employers who have registered for the event. Some of them are:
AFLAC
Anderson Zurmuehlen & Co
COP Construction
Denny Menholt Chevrolet
Energy Laboratories
Galusha Higgins & Galusha
GE Capital Americas
Marine Corps Office Program
Nabors Completion & Production
Northwestern Mutual
PPL Montana
Theodore Roosevelt Medora Foundation
Tractor & Equipment
Job-seekers should bring copies of their résumés and register at the door. Parking is free on the day of the event in the parking garage just south of the Student Union Building.
For more information, go to www.msubillings.edu/careers or call the MSU Billings Office of Career Services at 657-2168.
PHOTO ABOVE: Visitors talk with a local business representative at a previous Career Fitness Fair held at MSU Billings.