University Communications and Marketing
Dr. Paul Foster takes aim at making Beijing to Billings a roundtrip ticket
December 17, 2013
Contacts:
Paul Foster, PH.D., Office of International Studies & Outreach, 247-5785
Carmen Price, University Relations, 657-2269
MSU BILLINGS NEWS SERVICES — Montana State University Billings welcomed more than 60 international students with the arrival of the academic year—a 20 percent increase from 2012—and a newly appointed executive director of international studies to help foster the program's growth.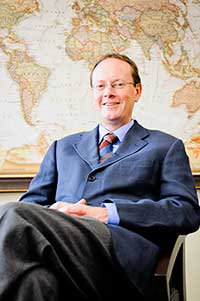 Dr. Paul Foster was named executive director of international studies Aug. 26 bringing new leadership and a refined vision to internationalization at Montana State University Billings.
"Montana has a proud international history," Foster said, "from the Native American peoples, to the hard-working people from Europe, Asia and Latin America who ranched the land, mined our minerals and built the railroads.
"Today, Montana has an even deeper international presence as we play a major part of the global energy economy. We have so many resources here that we didn't know existed even five years ago. This has and will change the face of Billings and the region for a long, long time."
Foster said the international student population has increased nearly five-fold since 2009 with 33 students to nearly 160 from 15 different countries at the onset of the academic year.
As executive director, Foster is responsible not only for leading recruiting efforts for students abroad to attend MSUB, but also building partnerships with universities globally to create exchange programs and opportunities for MSUB students to study abroad.
As part of his recruiting efforts, Foster traveled to China last week where he visited three international program partnering universities—Wuxi South Ocean College, Xuchang University and Guangxi Medical University. The five-day visit, he said, was central to his goals and mission as director of MSUB's international studies program.
"We have several international agreements and partnerships with a number of institutions," he said. "But many of them have been dormant for years. It's important we nurture these relationships in order to have a robust international studies program."
Presently, just a handful of MSUB students are studying abroad, primarily in western European countries, Foster said. He hopes for that number to at least double by 2015 and extend into Southeastern Europe and regions of China.
"We have done an outstanding job building a robust international student population on campus and we will continue to do so for years to come," commented MSUB Provost, Dr. Mark Pagano. "Now, imagine what value our Montana students could add to other institutions throughout the world. Dr. Foster's experience as a Montanan living, teaching and researching abroad really excited us as we knew he would grow our study abroad opportunities for Montana students attending MSUB."
A Billings native, Foster has studied and worked extensively abroad in higher education and is fluent in three languages with working knowledge in an additional six languages.
Foster received his doctorate in Slavic cultures from Columbia University in 1995, graduating with honors. Prior to his present position at MSUB, Foster served as Provost and Senior Vice President for Academic Affairs at South East European University in Tetovo, Macedonia.
His most immediate goal as director, Foster said, is to build an even broader groundwork of international programs and student body diversity at MSUB as the number of international student enrollment continues to grow.
In the longer term, Foster said his vision is to expand partnerships with abroad institutions, enabling more students, faculty members and Billings community members to participate in educational and research exchange opportunities.
Foster also plans to build a stronger sense of international community among MSUB faculty, the student body and Billings community members through events, programs and other various outreach initiatives that will heighten the international program's visibility locally, nationally and internationally.
"We must be engaged globally to succeed," Foster said. "This process of internationalization doesn't stop at the University. It involves the community as a whole."
MSUB International Outreach Coordinator Xiaoyi Wang said the international student population is a valuable resource for the Billings community.
"International students bring many different cultures and diversity to the Billings community," Wang said. "From food and clothes, to language and ideas, having international students on campus and in the community really helps everyone learn more about the world and be more accepting to other cultures."
The mission of the Office of International Studies is to foster the international character of the university by developing a wide-range of international and intercultural educational opportunities for members of the MSUB and Billings community, Foster said.
MSUB foreign exchange student, Faten Alharbi, of Saudi Arabia, graduated last week with her master's degree in public administration. She said her exchange experience is very valuable to her future.
"In my country, degrees from the United States provide you with a lot of professional advantages," Alharbi said. "Even personally, from my experience, there have been many advantages. I'm a very changed person. Diverse experiences, as a whole, are a very good thing."
A number of initiatives are underway within the Office of International Studies and Outreach:
English Language Programs
English language intensive programs provide an option for conditional admission to MSU Billings, our summer and winter ESL programs, and other Customized Group Programs tailored to serve a group's unique goals for language, social, cultural and academic skill development.
Study Abroad & Student Exchange Programs
Through a variety of study abroad and student exchange agreements established with foreign University partners throughout the world, these programs provide MSU Billings students an opportunity to spend a semester of year living and studying in another country as part of their MSU Billings degree program, as well as opportunities for international students to spend a semester or year studying at MSU Billings as part of their degree from their home institution.
Visiting Faculty Scholar Programs
A number of international faculty are selected to serve as visiting faculty scholars, which enables them to spend up to a year working with MSU Billings faculty on research in their area of common expertise—attending classes, participating in campus and community activities and enjoying social and cultural activities throughout the region.
International Community
The International Studies & Outreach Office is dedicated to promoting inter-cultural appreciation and understanding and the development of an "international community" through the International Student Club, community events and the Be a Foreign Friend Program.

For more information visit the Office of International Studies and Outreach website, or call the office at 247-5785.