Special Scholarships for International Students
General Scholarships
Campus Employment Opportunities
On-campus positions are hourly paid working at jobs that help students with their financial needs. There are various positions available to International students.
However, there are limitations for these positions. Please be sure to contact us for detailed information and apply early!
Global Leadership Scholaship Recipients (2022-2023)
Bossan Abdyyeva, of Turkmenistan, is an honors student studying political science at MSU Billings and is slated to graduate in May 2022. She transferred to MSUB from Northwest College in Powell, WY. Despite her busy academic schedule, she still finds time for involvement in campus as well as community activities. Bossan has embraced life here in Billings while maintaining her connection and roots to her Turkmen culture. She has served as a Lead and International Resident Assistant (RA) at MSUB for the previous two years, as well as interned for the Office of International Studies as a Peer Mentor. After gradauting, Bossan plans to work during the summer under OPT (Optional Practical Training), before continuing straight into graduate school the following fall.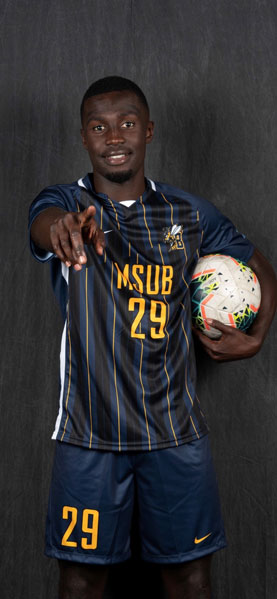 Marvin Putu is from France and is a senior at MSU Billings. His major is Business Adminsitration: Marketing and he is a start soccer player on MSUB's Men's Soccer Team. As a student athlete marvin gets extremely busy during the semester, but he still tries get involved as much as he can in the campus life and in the community. With the men's soccer program, he is required to do community services and he personally likes to help other international students to feel more comfortable on campus and to help them with whatever they need. Marvin is slated to graduate in May 2022, after which he plans to pursue his graduate degreee in Colorado, where he will also play soccer.