Global Leadership Scholarship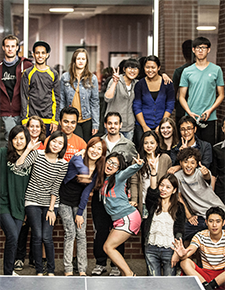 The Office of International Studies Global Leadership Scholarship is an award proudly given to MSUB international students who are eligible, successfully complete the application process and are selected. This award will be given up to two students who fit one of the following preferences:
1 award given to a student in financial need
1 award given to student who further promotes the internationalization efforts at MSU Billings and the Billings community
Requirements
All degree-seeking, undergraduate International Students at MSU Billings with at least 3.0 MSUB GPA who are here on an F visa are eligible to apply. (IELP students are eligible for the scholarship after they have successfully completed one semester of undergraduate classes.)
Priority will be given to international students who receive no other tuition reduction or fee waivers either from the Office of International Studies or from some other government sponsorship.
Application process:
Complete the general MSUB Scholarship Application form before February 1 of each year. This form can be found on the MSUB Scholarship website. Please follow the instructions exactly as listed on the website.

If selected as a finalist for this award, applicants will also be required to submit an extra, two-page essay detailing how they will use their experience at MSUB to further global understanding between their home countries and Montana.
A committee of MSUB staff and faculty chosen by the Executive Director of International Studies will read all applications that are submitted by the deadline. After review, students will be selected to receive this scholarship and notified within 30 days. The scholarship will then be app lied to the following fall semester's tuition. Students will see this credit on their student bill.