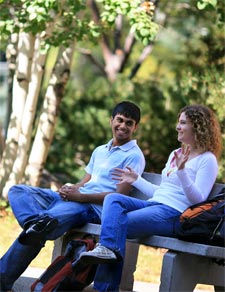 The Office of International Studies Yellowstone Scholarship is a $1000/semester award proudly given to MSUB international students who are eligible, successfully complete the application process and selected.
Requirements
All degree-seeking International Students at MSU Billings who wish to apply must meet these requirements:
have at least 2.50 GPA (undergraduate) 3.00 GPA (graduate)
must not be financially sponsored by their government
are not receiving any other tuition reduction from the Office of International Studies
All students must apply each semester they would like to be considered for the scholarship. The deadlines for applying are:
November 1 for Spring Semester
March 1 for Fall Semester
Application Process
Complete the downloadable Scholarship Application form. Students can also pick up this application form in the OIS office.
Write a statement in 500 words or less that describes your current involvement in:

School activities or programs, especially those directly related to the internationalization of the MSUB campus
Educational as well as career goals
Financial need
Any other relevant information you would like the scholarship committee to consider. This is your opportunity to make an impression on the committee and explain why you deserve a scholarship.

Submit the name and contact information of one MSUB faculty or staff member who will recommend you for the scholarship.
Print out an unofficial transcript from your MSUB Secure Area student account.
Give all of these documents to the Office of International Studies either in hard copy form or via email to ois@msubillings.edu by the deadline listed above.
Selection Process
A committee of MSUB staff and faculty chosen by the Executive Director of International Studies will read all applications that are submitted by the deadline. After review, students will be selected to receive this scholarship and notified within 30 days. The scholarship will then be applied to the following semester's tuition. Students will see this credit on their student bill for the following semester.