Rights and Responsibilities
Student Rights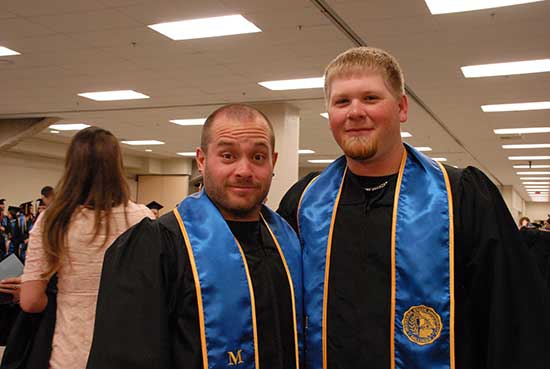 Financial Aid Responsibility
The Office of Financial Aid & Scholarships staff is responsible for processing your aid application and administering your award in a timely manner. You have the right to expect equitable treatment in the consideration of your application for financial aid and employment assistance. Each student's file is evaluated on an individual basis and financial aid is awarded according to eligibility and packaging guidelines.
The staff reviews files in the order they are completed. Students who provide information to complete their files during peak business times (July, August & September) may experience a substantial delay due to the high volume of files being processed. If you apply or complete your file late, please be prepared to pay with your own funds until your file is reviewed and awarded. Students who are in good standing and have submitted all requirements and are waiting for the financial aid office to review their file, may inquire with the Financial Aid Office staff to determine if they may be eligible for an Emergency Book Loan.
Confidentiality Statement
The Family Educational Rights and Privacy Act (FERPA), a federal law that protects the confidentiality of a student's education record, and Montana state statutes, specify that the University may not release information from a student's record to anyone outside of the University without the express written consent of the student. This means that Montana State University Billings (MSUB) must withhold information about a student's grades, financial obligations, or standing with the University from parents and others who believe their relationship with the student entitles them to have the information. Please understand that because of these laws, MSUB CANNOT release this information without the express written consent of the student. If the student wishes to give consent to non-University employees, they must complete an Authorization to Release Financial Information form.
Please refer to the MSUB FERPA Policy and related resources for details. Students may sign a release form, kept on file electronically, granting access to certain records by designated parties. The form needs to either be signed/witnessed by a University Employee or by a notary public. Please email the Office of Admissions and Records/Registrar or phone 406-657-2158 to obtain a copy of the release.
Student Responsibilities
If your residency or enrollment plans change, you must notify the Office of Financial Aid & Scholarships because your eligibility for financial aid may be affected.
If you receive any educational funding, such as Veteran's Benefits, Vocational Rehabilitation, and/or Employer Assistance, or if you are awarded a scholarship, grant, or stipend, you must report this information to the Office of Financial Aid & Scholarships in writing as soon as possible. A Financial Aid Administrator will re-evaluate your eligibility. If you are no longer eligible for part of the aid you have been offered, we will work with you to resolve any over-award as painlessly as possible. If it is necessary that you repay a portion of your financial aid, you will have to repay it before you are eligible for further aid.
After you leave school, you must stay current with your loan payments to the college or lender. If the Office of Financial Aid & Scholarships learns that you are delinquent or in default on a loan from another school, your current award could be canceled. The MSUB Student Accounts staff can help you with Perkins Loan deferments and repayment arrangements to avoid default.
General Financial Aid Eligibility Requirements
All financial aid recipients must meet the following eligibility requirements:
Be enrolled/accepted for enrollment in a degree or certificate program.
Cannot be enrolled in an elementary or secondary school.
Have a high school diploma or GED.
Be a citizen or eligible non-citizen.
Maintain satisfactory academic progress.
Cannot be in default on Perkins Loans, Stafford Loans, or PLUS Loans at any institution.
Cannot owe an overpayment of Pell or SEOG.
If required, must register with the Selective Service.
Cannot have borrowed in excess of loan limits.
Have need, as defined by individual program requirements (except for unsubsidized Stafford
Loans and PLUS Loans).
Meet any other program-specific criteria.
Request changes to your award
If you have additional expenses, such as dependent care or costs related to a disability that are not paid by another source (AFDC, Vocational Rehabilitation), you may request an adjustment in your budget. You will be required to provide documentation regarding the expenses. Standardized amounts for dependent care will be used, if you qualify. Get Request for Child Care forms online.
If your previous year's income or your parents' previous year's income will be considerably less than your current year's income due to loss of employment or benefits, death, divorce, or reduction in employment hours, you may request a "Professional Judgment" re-evaluation of your financial aid eligibility. You or your parents will be required to document the change of income. Professional judgments are reviewed on a case-by-case basis in the order they are received after the student's initial award letter has been processed. Changes due to income only will not be reviewed until after your current year's income taxes have been filed, unless this is the result of a death or divorce. Get the Professional Judgment Appeal Form on line.