Fingerprint & Background Check Information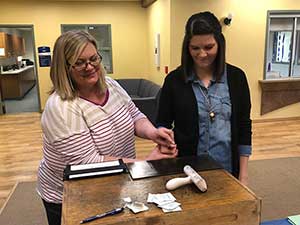 The College of Education at Montana State University Billings (MSUB) requires that a national criminal history background check, including fingerprinting, to be completed for all candidates enrolled in Educator Preparation, ABA, or School Counseling Programs. Candidates cannot be admitted to the programs until this process has been completed. Information regarding this process is located in the Fingerprint Handout link below.
Submit fingerprint card, fees, and documents in person to the Administrative Associate in the Office of Educational Theory and Practice (ETP) Room 261 or Licensure Officer, Room 262.

All mailed fingerprint cards should be addressed to Jennifer Burns, Licensure Officer, COE Rm. 262, 1500 University Drive, Billings, MT 59101.
Questions contact Jennifer Burns, Licensure Officer, jburns@msubillings.edu , (406)-657-2293.
Fingerprint/Background Check Process Information
When obtaining fingerprint cards you may let the fingerprinting agent know that we will provide the information for the Employer and Address, Reason Fingerprinted, ORI, and OCA sections of the fingerprint card prior to sending to the Montana Department of Justice for your report.
Request for another Montana public school to share background information with MSUB
Need your MSUB Criminal Background Report to be sent to another to another school?
We can redisseminate your background report to another Montana Public School District only if you complete the Request for Redissemination of Background Check Information (from MSUB). Due to Federal Laws reports cannot be sent out-of-state, to private schools or to other agents.
Free Campus Notary Services - obtained in the College of Education and in other MSUB Campus offices
Jennifer Burns, College of Education, Rm. 262
Complete listing of MSUB Notaries - Government-issued ID required for notary services.
Campus Fingerprinting Services
MSUB University Police Department
1st Floor of the Poly Drive Parking Garage
Cash or Check Only
$10.00 1st card, $5.00 per additional card
By appointment only; schedule through University Police
**Government issued ID always required for fingerprinting services, you must know social security number and masks are required**
Crime Prevention
2910 3rd Avenue North
Billings, MT
406-247-8590
Cash or Check Only
$15.00 per card
by appointment only
Call O Way Fingerprinting
1140 1st Avenue North, Suite 302
Billings, MT
406-371-3630 (Rahim)
406-281-3473 (Amber)
By appointment only Mon-Sat
provides same-day appointments
Outside the Billings area…..contact your local police or sheriff's department for information on fingerprinting services
** Please Note**Additional documents plus check or money order to MT Department of Justice for $30.00 will be needed to obtain a background report. See information in the Fingerprint Handout.