Associate of Applied Science (AAS)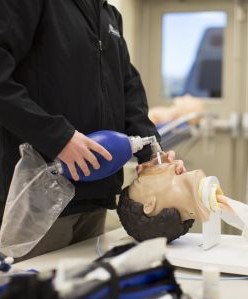 On Campus option

Online (Sprint) option
If you are interested in a fast-paced career that provides life-saving service to your community, a paramedic degree may be perfect for you. From heart attacks to car accidents, to gunshot wounds, paramedics are often the first to arrive at the scene of an emergency. As first responders to emergencies, paramedics provide life-saving care as they coordinate the rescue and transportation of patients to hospitals. Paramedics are the highest qualified emergency medical responders, trained to deliver more specialized care than other first responders. At City College, your paramedic education will include classroom instruction, laboratory practice, and clinical experience. Our high-tech program will enable you to be competitive in an ever-changing, technologically diverse environment. Upon successful completion of this program, you will be eligible to take the National Registry of Emergency Medical Technicians (NREMT) Paramedic Exam.
NEW Online (Sprint) Option: Along with our in person option, an online pathway for remote students is available. This pathway converts the classroom lecture coursework to online with a combination of video presentations, online chat, and online meetings with your instructor. This pathway will still require some on campus labs in Billings. See "Program Delivery" link below for further details. This pathway will have additional entry requirements that students must meet to be eligible - see "Admission Requirements" below for details.
Clinical and Field Internship rotations can then be completed at an approved location. Successful completion of this pathway will allow the student to take the National Registry of Emergency Medical Technicians (NREMT) Paramedic Exam as well as earn an Associates of Applied Science Degree in Paramedicine.