University Communications and Marketing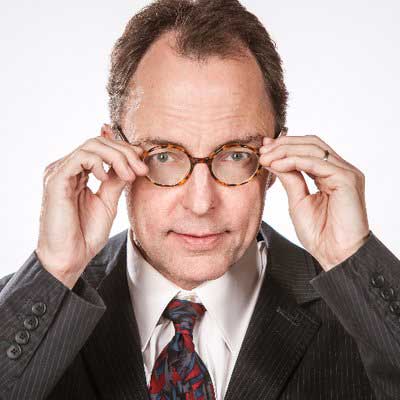 MSU Billings bringing awareness to lives lost from suicide
Power of One Week, running Jan. 21-29, focuses on college student lives taken by suicide each year
Contacts:
University Communications and Marketing, 657-2266
MSU BILLINGS NEWS—A Tonight Show writer for over 20 years, Frank King is someone who knows humor. He is also a lifelong battler of depression.
Known as "The Mental Health Comedian," King is a suicide prevention and "postvention" public speaker and trainer with a mission to begin the conversation about mental health with "anyone and everyone who will listen."
King's message about suicide prevention will be featured on the campus of Montana State University Billings during Power of One Week.
The annual event, surrounding the spirit of Dr. Martin Luther King, Jr., will run Jan. 21 to Jan. 29. This year's theme focuses on bringing awareness to the suicide rates of college students.
MSU Billings will be featuring King's keynote presentation on Tuesday, Jan. 22 at 7 p.m.
King is honest and open about his and his family's struggle with depression and suicide during his presentation. Despite the dark and serious discussion topic, King utilizes "a tool people from all walks of life can relate to" when addressing his own trials and tribulations: humor.
His discussions have taken him around the globe, and his use of comedy and personal life lessons help him to break the ice and start a conversation with those struggling with mental and emotional stability.
King has spoken to a variety of audiences, from high-risk occupations, such as farmers and first responders, to middle-school-to-college-aged youths. He incorporates his award-winning humor columnist background with his experience as a clean and clever stand-up comedian and his battle with his lifelong depression and thoughts of suicide for a content-packed keynote presentation.
King has also given multiple TED Talks and runs a blog on his website.
MSU Billings has been honoring the legacy of Dr. Martin Luther King, Jr. for over two decades with a bell ringing ceremony. The ceremony symbolizes the quest for peace, justice, human rights, and social and economic progress for all people. The symbol of the bell also embraces the historical Liberty Bell and the representation the bell holds for independence.
The bell-ringing ceremony will take place at 9:45 a.m. in Peaks to Plains Park on Monday, Jan. 21.
A variety of groups from around campus will be taking part in programming for the week and will be helping bring awareness of suicide prevention, myths surrounding suicide, and how to help fellow students with QPR (Question, Persuade, and Refer) training.
Montana State University Billings Power of One Week Schedule:
Monday, January 21
Campus Lawn Passive Programming begins
Change Wars in the Residence Halls
Bell Ringing Ceremony & Reception, 9:45 a.m.
Heroes Event, TBD
Tuesday, January 22
Frank King at MSUB, 7 p.m.
Wednesday, January 23
Welcome Back for Veterans, 12 p.m.
Know the Signs Trivia Table and Break the Stigma Photo Booth, 5-7 p.m.
Thursday, January 24
Lunch and Learn: Suicide in College: Connecting Concern to Action, 12 p.m.
Game Day Sponsor at Basketball Games, 5:15 p.m. and 7:30 p.m.
Friday, January 25
Saturday, January 26
Service Saturday, 9:30 a.m.
Tuesday, January 29
QPR (Question, Persuade, and Refer) Training, 12-1 p.m.
All events are free and open to the public.
A complete description of events for Power of One Week can be found here.
For more information, contact the Center for Engagement at 406-657-2387 or engagement@msubillings.edu.