University Communications and Marketing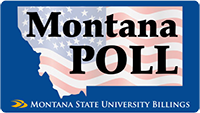 MSUB releases 2018 Montana Poll
Contacts:
University Communications and Marketing, 657-2266
Dr. Jason Adkins, (406) 657-2933, jason.adkins1@msubillings.edu
MSU BILLINGS NEWS—With the U.S. Senate race drawing national attention this election cycle, incumbent Democratic Sen. Jon Tester appears to be pulling away, according to the results of the 31st Montana Poll conducted by Montana State University Billings. Tester is leading Republican candidate Matt Rosendale by a nine-point margin (47 percent to 38 percent) with two weeks left until Election Day on Nov. 6. Three percent of respondents said they would vote for Libertarian candidate Rick Breckenridge, while 12 percent are undecided.
"Sen. Tester looks to be building a lead that has held for much of the race," said Dr. Jason M. Adkins, assistant professor of political science and director of the Montana Poll.
The poll was conducted with the help of 12 students in Dr. Adkins' "Media, Public Opinion, Polling" course from a statewide random sample telephone survey of 471 likely adult Montanan voters Oct. 8-13. The margin of error for the poll is plus or minus 4.5 percent. The results from the Montana Poll were released in a news conference on Oct. 23 on campus.
The poll also shows Republican Congressman Greg Gianforte holding a three-point lead over Democratic challenger Kathleen Williams, with Libertarian candidate Elinor Swanson getting 3 percent support and 12 percent undecided.
Respondents were also asked their opinion on four ballot measures that will be decided. Fifty-two percent said they would support Initiative 185, which would continue the Medicaid expansion and raise tobacco taxes, while 39 percent said they would oppose it and 8 percent are undecided.
Voters seem inclined to support Initiative 186, which would ban new hard rock mining permits without a plan to address contaminated wastewater, with 50 percent of respondents indicating they are in support, 30 percent opposed, and 20 percent undecided.
Legislative Referendum 128, which would extend the existing six-mill property tax levy to fund higher education for another 10 years, has wide support. Sixty-six percent of respondents said they would support it, 11 percent opposed, and 22 percent undecided. Voters are unclear if they would support Legislative Referendum 129, which would ban most third parties from collecting absentee ballots, as 41 percent are undecided, 36 percent in favor, and 24 percent oppose the measure.
Other highlights from the Montana Poll:
Forty-nine percent approve of Pres. Trump, 42 percent oppose, and nine percent are undecided or neutral.
Forty-six percent approve of Gov. Steve Bullock, 26 percent oppose, and 28 percent undecided or neutral.
Regarding immigration, 51 percent say illegal immigrants should be deported versus 31 percent who say sanctuary cities are needed, and 18 percent undecided.
Forty-nine percent say federal funding for sanctuary cities should be cut, 42 percent oppose cutting federal funding, and 12 percent are undecided.
"It's not surprising Montanans tend to support Pres. Trump and oppose policies they believe support illegal immigration," Adkins said. "Despite Montana being purple with Democrats holding a Senate seat and the Governor's office, it still is a conservative state."
»» Read/download the full results of the poll