University Communications and Marketing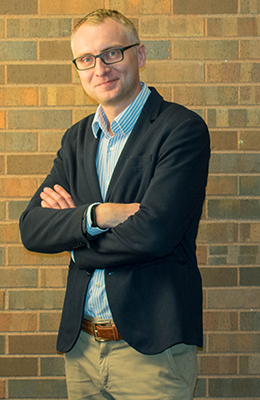 MSUB hosts visiting faculty scholar from Czech Republic
Will return home at end of spring semester

Contacts:


University Communications and Marketing, 657-2266

MSU BILLINGS NEWS SERVICES — Montana State University Billings has had the opportunity to host visiting faculty scholar Karel Pančocha until the end of the Spring 2018 semester. Through the visiting scholar program, faculty members from across the globe are able to spend up to a year at MSUB, researching, attending class, being involved on campus, and enjoying the Billings culture.

Karel Pančocha, Ph.D., is an Associate Professor of Special Education at Masaryk University, Brno, Czech Republic. He is also Vice-Dean for Strategy and International Relations and Head of the Institute for Research in Inclusive Education.

In early 2017, Dr. Pančocha applied to be a Visiting Scholar at MSU Billings to support his research interests of Applied Behavior Analysis, Inclusive Special Education, and Early Intensive Behavioral Intervention (EIBI), a treatment used to help children with autism develop essential functional and adaptive skills, social-communication skills, and to help them reduce restricted and repetitive behaviors that stand in the way of learning. The MSUB College of Education, Department of Educational Theory and Practice, Special Education Applied Behavior Analysis Program was a good fit for his scholarly interests.

Dr. Pančocha initially reached out to Dr. Cheryl Young-Pelton, Associate Professor of Special Education who developed the ABA program at MSU Billings 10 years ago. The two worked together to develop a unified scholarly agenda and establish the internship setting at Billings Clinic Psychiatric Department, which was within walking distance of the College of Education building.

In addition, Dr. Ania Young, Assistant Professor of Special Education at MSU Billings agreed to provide BCBA Supervision over his direct and indirect behavior analytic activities.

So, with the assistance of the International Studies Office at MSUB, his family/housing sponsor, Board Certified Behavior Analyst Internship Supervisor and ABA Program Director, Dr. Pančocha was able to register as a graduate student and earn experience hours toward the Behavior Analyst Certification Board intensive practicum at Billings Clinic, Advanced Therapy Clinic, and Huntley Project School as part of the course SPED 590 Internship in ABA.

As both visiting scholar and graduate student, Pančocha has been able to gain valuable insight into the online, distance, in-person, and in-situ supervision system for training both knowledge and skills in behavior analysis.

While Dr. Pančocha has not been teaching classes this semester, he has participated in a regional Behavior Analysis conference in Park City, Utah and a local Autism Conference. He has also participated in a panel discussion with Dr. Young and another intern at Billings Clinic Psych Department as part of their professional development program. There are plans for Pančocha, his colleague Helena, Dr. Young-Pelton, and Dr. Young to write an article on distance and on-site supervision in applied behavior analysis and collaboration between universities in Montana and the Czech Republic.

After this semester, Dr. Pančocha plans to complete more hours in the SPED 590 Internship in ABA, remotely from the Czech Republic, as faculty have established an Autism Clinic on the campus of Masaryk University in Brno. Doctors Young and Young-Pelton will continue providing supervision via WebEx using bug-in-ear for real-time feedback with children and D2L platforms for assignments and discussions. When Pančocha has earned the required number of hours to sit for the professional board exam, he will be able to take that test in London. When he passes that professional exam, he will be a Board-Certified Behavior Analyst.

Dr. Pančocha will be leaving the U.S. and returning to the Czech Republic at the end of Spring 2018 semester.

For more information, contact Dr. Cheryl Young-Pelton at cyoung@msubillings.edu or 657-2195.