University Communications and Marketing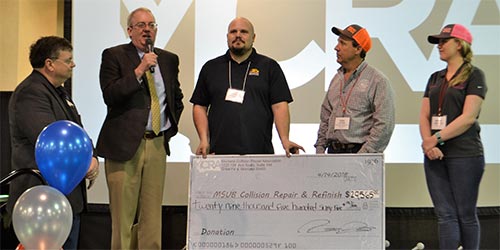 Montana Collision Repair Association raises thousands for City College students
Contacts:


Tiffini Gallant, Alumni/Foundation Marketing Coordinator at MSU Billings Foundation, (406) 657-2252, tiffini.gallant@msubillings.edu

MSU BILLINGS FOUNDATION NEWS—The 2018 Rocky Mountain Trade Show brought more to Billings than restored classic cars and training sessions for auto industry professionals. The two-day event organized by Montana Collision Repair Association garnered significant funding for City College at Montana State University Billings transportation programs.

Two giant checks were presented to City College Dean Clifford Coppersmith, auto body instructor Steven Wodrich, and MSU Billings Foundation President and CEO Bill Kennedy Saturday evening at the Red Lion Hotel in Billings. The first check was made out to the MSU Billings Foundation in the amount of $17,500. Montana Collision Repair Association Vice President Todd Litton said the MCRA has been working for several years to create a college scholarship fund.

"This money will go into a lifelong endowment," said Litton. "We'll be able to draw so much money annually to create scholarships for kids across the state of Montana to get them interested in auto collision repair programs."

And this is just the start, he said.

Friday night saw tremendous support from trade show attendees during a pedal car auction fundraiser for City College students, who refinished the donated models. A combination of auction funds and in-kind donations resulted in more than $40,000 in new equipment and a check for $29,565 presented during the awards finale.

Wodrich accepted the check on behalf of the auto body program at City College. Dean Coppersmith commented with congratulations to the instructor.

"We've had a lot of great success with Steve this past year with all the things he's doing, and we know he's got a great future ahead providing awesome opportunities for our students," said Coppersmith.

The endowment funds and donated equipment, including a $28,500 spot welder, $2,500 scan tool, and $12,500 aluminum repair station will help prepare transportation industry students for modern demands in the work force.

"The name of the game is going to be bringing the students in, getting them trained, and getting them out into the workforce," said Kennedy.

Litton said the money will be used to create another fund that City College auto instructors can use for tools, equipment and other program expenses.

For more information about the endowments, contact Bill Kennedy, President and CEO at MSU Billings Foundation, (406) 657-1622, bill.kennedy@msubillings.edu.