University Communications and Marketing
Comic Iliza Schlesinger brings 'Freezing Hot' tour to MSUB
November 6, 2015
PERFORMANCE CANCELLED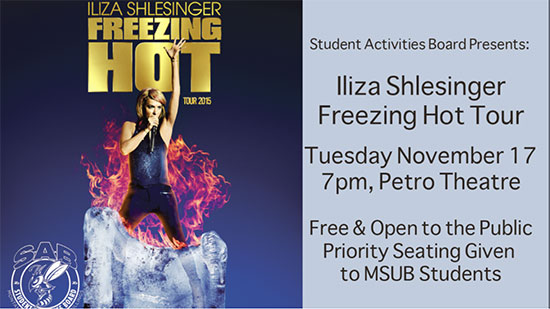 Iliza Shlesinger will perform live at MSU Billings Nov. 17, 8 p.m., in Petro Theatre on the university campus, 1500 University Dr.

Contacts:

Lacey Solheid, Student Activities Board, 657-2387
University Communications and Marketing, 657-2266

By: Blair Koch

Students and community invited for free event on Nov. 17, 8 p.m., in Petro Theatre

MSU BILLINGS NEWS SERVICES — In a couple of weeks, Billings will have an opportunity to enjoy one the country's hottest comics.

MSUB is hosting Iliza Schlesinger, who is making a stop in the Magic City during her Freezing Hot Tour.

The event is sponsored by the Student Activities Board and is free to students and the community. However, students will be given priority theater seating in Petro Hall.

The comic performed in Petro in 2009 after becoming the first and youngest winner of NBC's "Last Comic Standing" in 2008. Since then, Schlesinger has released comic specials for Netflix, produces a weekly podcast and was recently named the host for TBS's upcoming game show, "Separation Anxiety."

Student Alesha Erfle, who is also SAB's chairwoman, said the student group has been working since this spring to make the campus a "Freezing Hot" tour stop.

"It's a pretty big deal to have Iliza coming and we're excited," Erfle said. "She is a very popular comedienne."

Schlesinger's act will hopefully give students a good excuse to vacate the library and put down the books, for at least a few hours, Erfle said.

"With midterms and upcoming finals this can be a stressful time of year," she said.

The stand-up act is also exciting because the community can enjoy the performance for free as well.

"This will be the largest event we put on this year," said SAB Engagement Coordinator Lacey Solheid.

While the SAB is optimistic about filling Petro's 500 seats, they caution some parts of the show may not be kid-friendly.