University Communications and Marketing
MSUB history professor selected for fellowship at New York Public Library
July 1, 2015
Contacts:
Keith Edgerton, History Department, 657-2895
Carmen Price, University Relations & Communications, 657-2266
MSU BILLINGS NEWS SERVICES — Emily Arendt, assistant professor of history at Montana State University Billings, is one of about 20 scholars, academics and creative writers selected to receive a 2015-16 short-term fellowship from the prestigious New York Public Library where she will explore the relationship between food and partisanship during the Early American Republic.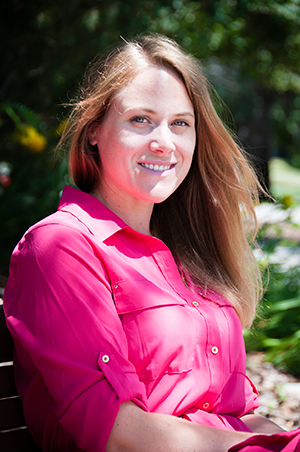 Her research, "Making Politics Palatable: Food and Partisanship in the Early American Republic," examines how women participated in the history of politics through various nontraditional approaches such as planning parties and cooking elaborate, politically themed meals.
"By using the kitchen to investigate women's support for political activities, my research aims to expand our understanding of what constituted political action in the early national United States," Arendt, self-described foodie and feminist, said. "The New York Public Library has one of the most extensive collections of printed cookbooks in America, so it's going to be really fun to get my hands on those."
The four-week fellowship provides a stipend to support travel expenses and four weeks of accommodation, a private working space in library's landmark building at Fifth Avenue and 42nd Street in Manhattan and full access to the incomparable research collections and online resources available there, as well as the assistance of the library's curatorial and reference staff.
"This fellowship is a testament to Emily's outstanding promise of research," History Department Chair Keith Edgerton said. "She is continuing a strong tradition of scholarship we in the history program have fostered over the years."
Preference is given to scholars whose work is based on materials in the NYPL research collections, especially when those materials are unique, according to the library's website. Fellows are expected to produce a written summary of his or her experience working the collections.
Arendt will be there for two weeks in July and two weeks in January.
"Until you get in there, you never know what you'll discover," she said. "This is very much unchartered territory—how food relates to politics. But, I argue that historically women played essential roles in the political landscape—as party planners, menu creators and cooks—creating spaces and events that drove partisan politics at both the elite and plebeian levels."
"Investigating the way in which women used the kitchen to engage in political activity will help to explain to what degree domestic activity had on public connotations and the importance of food culture as symbol and ritual in forging partisan political cultures," Arendt said.
Cooking in print culture emerged in the United States as a major phenomenon in the late 1700s with Amelia Simmons "American Cookery."
"This was during one of the most tumultuous periods in American history," Arendt said. "People are threatening civil war…and you see that reflected in this and other manuscript cookbooks."
She draws upon recipes titled "Federal Pudding" and "Election Day Cake" as a way to explain the connection between food and politics.
"It's a new way to look at women's involvement in partisan disputes through domestic means," she said.
Arendt points to events such as the Revolution of 1800 and the War of 1812, representing times of national duress which were all accompanied by intense scrutiny of familial and political relationships.
"The dialogues that emerged from these deliberations created myriad ways of thinking about gender in the new nation and fashioned the intellectual apparatus necessary for either challenging or reinforcing patriarchal household relations."
Conversations were also sparked about the degree to which women ought to be involved in public life.
"There are many accounts of the history of American politics, but always written from a male perspective and by male participants. This is one way to bring women's voices of historical documentation to the surface."