University Communications and Marketing
Percussion Performance Major Presents Senior Recital
November 26, 2013
Contacts:
Department of Music, 657-2350
University Relations, 657-2269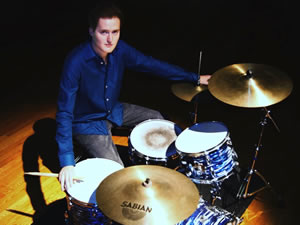 MSU BILLINGS NEWS SERVICES — Devin Kennedy will present his Senior Recital on Friday, December 6th at 7:30 p.m. The recital will be held at the Cisel Recital Hall on the MSU Billings university campus.
Devin is a student of Luke Kestner and Matt Devitt. He is a percussion performance major. He has participated in various ensembles at MSU Billings including the Symphonic Band, Jazz Band and Percussion Ensemble. Devin plays a variety of genres with different bands. He has also performed with the Venture Theater, Billings Studio Theater and the Billings Symphony.
The recital will feature works from Frank Zappa, The Meters, Ney Rosauro, J.S. Bach, Robert Marino and Ennio Morricone. This event is free and open to the public.
For more information on the recital or other details of the Music Department programs, call 657-2350.
PHOTO ABOVE: Devin Kennedy