University Communications and Marketing
Montana State University Billings Enrollment Near 5,000 Students
September 25, 2013
Contacts:
Aaron Clingingsmith, University Relations, 657-2269
MSU Billings shows significant retention increase, the university continues to hold an affinity
amongst American Indians, Hispanics and International students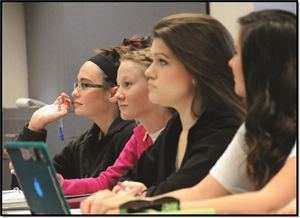 MSU BILLINGS NEWS SERVICES — Montana State University Billings has started the 2013-14 academic year with just under 5,000 students. This is the first year in the past five where MSU Billings enrollment has dipped below 5,000 students. With the slight decline MSU Billings still holds strong as the third largest institution in Montana.
At its official, 15th class-day count, MSU Billings enrollment is at 4,969 students. Of that enrollment, 3,661 students are enrolled at the university campus serving four-year and graduate programs and 1,308 students are enrolled in programs at the City College campus.
Year-to-year, the overall enrollment is about 2 percent lower at the university campus and City College campus. However, the institution's retention rate from fall 2012 to fall 2013 has increased by 3%. First-time full-time freshman on the University campus were retained at nearly 60 percent, up 4 percent from 2012. "We have done a phenomenal job retaining the students attending MSU Billings," commented Chancellor Rolf Groseth. "In the face of declining high school enrollment in Montana and a strong economy in Eastern Montana we have continued to show the value of higher education."

MSU Billings continues to have an affinity amongst Native American students, Hispanic students, and International students. Native American students being educated at MSU Billings in 2013 has increased by 5 percent while Hispanic students have increased 2 percent when compared to a year ago. International Students attending the institution have increased nearly fivefold from 33 in 2009 to 153 this year.
Overall, more Montana students have found MSU Billings a great place to live while they are taking classes. Between 2009 and 2013, the number of students living in the residence halls has increased by 7 percent.
In an address to faculty and staff, MSU Billings Chancellor Rolf Groseth said the university had planned for decreased enrollment this year, mostly because of declining overall high school enrollment in Montana coupled with another record graduating class of nearly 1,000 students last spring. The chancellor said the university will continue to work on strategic plans to respond to local, regional and statewide workforce needs and to help students move through their academic programs in an efficient and affordable manner.
Other enrollment information shows:
Of the total number of students, almost 42 percent are 25 or older. The largest percentage of students (36.9 percent) is between the ages of 18 and 21.
The majority of MSU Billings students come from the surrounding counties. Most (52 percent) are from Yellowstone County and another 34.3 percent are from other Montana counties.
The average age of undergraduate students at the four-year university campus is 25.2 and at the City College is 25.3.
Most of the students are studying on a full-time basis. Of the total headcount enrollment, 67.9 percent are full-time students.
The majority of students continue to be women (62.1 percent). However, males at City College taking full-time class loads eclipse females by 100 students.
American Indian students make up 6 percent of the student body at MSU Billings while Hispanic students comprise about 4 percent.
Begun in 1927 as a teachers college, MSU Billings has become a comprehensive regional urban university with about 100 academic programs in areas of Arts and Sciences, Allied Health Professions, Business, Education and Technology. In addition, students can choose from more than 200 classes offered in 21 online programs.
To find out more about MSU Billings academic offerings, go to www.msubillings.edu or call the Office of New Student Services at 657-2888.
PHOTO ABOVE: MSUB Students