University Communications and Marketing
June 27, 2013
Contacts:
Dean Dr. Marsha Riley, City College, 247-3009
Dr. Rita Kratky, City College, 247-3016
University Relations, 657-2243
A change in name brings opportunities to the City community
MSU BILLINGS NEWS SERVICES — Thursday, Oct. 24 marks the one-year anniversary of the new "City College" brand, the heart of the two-year experience in Billings.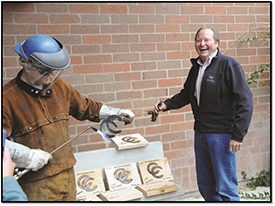 As the new name was unveiled last fall, City College has continued working to expand its offerings to meet the needs of all learners, from traditional students to working adults. City College Day is an opportunity for students, faculty, staff, and the community to come together to reflect on where MSUB's two-year college has been, where it is headed, and to share in the successes as part of the City College community. All community members are invited to attend, and to get a feel for what City College has to offer.
Throughout the transformation from the "College of Technology" to City College at MSU Billings, the mission has remained student and community-focused. As the City emerged into its current form it has gained more than just a new name, but also a new and expanded identity as well. Partnerships with the Parmly Billings Library, School District 2, on-site tutoring and extended student service hours have provided more opportunities for City College students to succeed in their academic endeavors. As the premier two-year college, embedded in the four-year MSU Billings system, students have a wider array of degree and certificate options to prepare them for careers. There's also more flexibility in the timing of classes.
With expanded daytime and evening class hours and online options, City College prepares students to "go to work," said City College Dean, Dr. Marsha Riley. And that work includes everything from degrees in sustainable energy, healthcare, fire science and automotive technology, to name a few. "The sky's the limit," said student Rosemary Mhembere who has been taking general education courses to prepare her to become a nurse.
Whether you are a traditional student, or a working adult looking to expand your skills, City College offers a flexible schedule and affordable format that can fit into your life. Join MSU Billings on Oct. 24 at the City College Tech Building commons from 11 a.m. to 1 p.m. for refreshments and see how this City is part of yours.
PHOTO ABOVE: Former Governor, Brian Schweitzer and City College Welding Instructor, Trevor Brown emblaze the CC brand during the colleges official rebranding on Oct. 24, 2012.