University Communications and Marketing
Artist shows how ecosystems and life cycles are affected by climate change, over population, and invasion of new species
October 8, 2013
Contacts:
Leanne Gilbertson, Northcutt Steele Gallery, 657-2903
Aaron Clingingsmith, University Relations, 657-2269
Conversation with the Artist, Thursday, Oct. 17, 4:30 pm, Northcutt Steele Gallery
Opening Reception: Thursday, October 17 (5 p.m. – 7 p.m.) (Free and Open to the Public)
MSU BILLINGS NEWS SERVICES — MSUB Department of Art's Northcutt Steele Gallery welcomes visiting artist Rachel B. Abrams on Thursday, October 17 with a public conversation and artist reception. Abrams will discuss her ongoing series of sculptural installations and mixed-media works with Gallery Director Leanne Gilbertson at 4:30 pm. The conversation will be held in the gallery and will be followed by a catered artist reception. The conversation and reception are free and open to the public.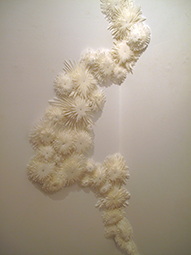 Abrams's exhibition Distorted Senses of Proportion includes sculptural installations, and mixed-media drawings and collages, which encourage an awareness of the often-overlooked confrontations of natural and non-natural habitats. Abrams's primary focus is on how ecosystems and life cycles are affected by climate change, over population, and invasions of new species. Several of Abrams's "frustrules"—the artist's term for the viral, encroaching clusters of organic forms she constructs from recycled foam—swarm through, and transform the gallery space. Also on display are examples of the artist's graceful sculptures, collages, and mixed-media drawings, which employ an elegant Minimalist vocabulary of repeated forms to reflect upon the disruptions and perseverance of ecological systems and the rhythms and cycles of growth.
Rachel B. Abrams lives and works in Brooklyn, New York and has had several national solo exhibitions. She received her MFA in Glass from Alfred University and her BFA in Studio Art from University of Wisconsin-Madison.
For more information about the artist visit: http://rachelbabramsart.blogspot.com
The Northcutt Steele Gallery is located on the first floor of the Liberal Arts on the Montana State University Billings campus. The gallery is open Monday – Friday from 8:00am – 4:30 pm. For more information visit www.msubillings.edu/gallery or www.facebook.com/northcuttsteelegallery.
For media inquiries and more images contactLeanne Gilbertson, Director of Northcutt Steele Gallery, leanne.gilbertson@msubillings.edu; (406) 657-2903.
PHOTOS ABOVE: (1) Rachel B. Abrams, frustrules, foam and wire, dimensions vary, 2010–2013; (2) Rachel B. Abrams, Allowable Residues, cast recycled paper & plastic, dimensions vary, 2013.