University Communications and Marketing
Northcutt Steele Gallery Presents 'Works on Paper' by Kim William Fink
November 13, 2013
Contacts:
Leanne Gilbertson, Northcutt Steele Gallery, 657-2903
Aaron Clingingsmith, University Relations, 657-2243
Reception for Kim William Fink set for Thursday, Nov. 15 at Northcutt Steele Gallery at MSU Billings
MSU BILLINGS NEWS SERVICES — MSUB Department of Art's Northcutt Steele Gallery welcomes visiting artist Kim William Fink on Thursday, November 21 with an artist talk and reception. The talk will be held at 5pm in the gallery and will be followed by a catered reception. On Friday, November 22 from 1pm-3pm, Fink will be offering a printmaking demonstration and workshop in Room 114 of the Liberal Arts Building. All events and the exhibition are free and open to the public.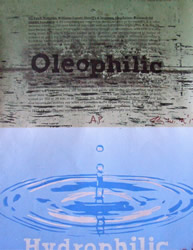 Fink's exhibition, Works on Paper, features a series of mixed-media prints offering a visual diary or personal "travelogue" of his journeys through the image-laden landscapes of the late 20th and early 21st centuries. His works often build upon and respond to one another while exploring issues of place and identity. Beginning with images drawn largely from contemporary mass media, Fink layers, modifies, and manipulates his "found" forms to reveal links to myth, philosophy, literature, and political and social concerns. His pictorial arrangements are composed of resonating colors, objects, and textures that create a visual poetry open to multiple interpretations.

Kim William Fink recently completed a residency at Arti Visive School of the Arts in Florence, Italy, and is Professor of Art at University of North Dakota in Grand Forks where he has taught printmaking since 1999. He has an active exhibition record of solo and group shows and his work is included in a number of national and international public collections.
For more information about the artist visit: http://www.kimfink.com/
The Northcutt Steele Gallery is located on the first floor of the Liberal Arts on the Montana State University Billings campus. The gallery is open Monday – Friday
from 8:00am – 4:00 pm. For more information visit: www.msubillings.edu/gallery/ or www.facebook.com/northcuttsteelegallery.
For media inquiries and more images contactGallery Director Leanne Gilbertson at leanne.gilbertson@msubillings.edu; (406) 657-2903.
For More Information:Visit the Northcutt Steele Gallery Website