University Communications and Marketing
MSU Billings music student presents junior recital Dec. 4
November 21, 2013
Contacts:
Department of Music, 657-2350
University Relations, 657-2243
MSU BILLINGS NEWS SERVICES — Kristy Dallas, soprano, will give her junior recital on Wednesday, December 4, 2013, at 7:30 pm in Cisel Recital Hall, Montana State University Billings.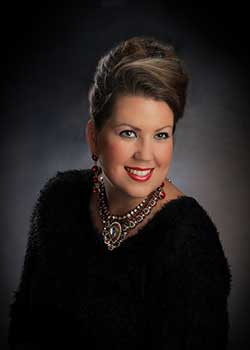 A California native, Ms. Dallas grew up in Billings, attended West High School where she sang in Meistersingers and was a violinist in the BWHS Orchestra. Kristy graduated from North Central College in Naperville, IL, and holds a B.A. in Organizational Communication and Spanish, with a vocal performance emphasis. While in Chicago, Miss Dallas was a regular guest soloist for Robert Frazen'sOne on One Television Show. She made her professional opera debut with Rimrock Opera (RO) in 2010, as Sylvaine in The Merry Widow and also had principal roles in RO's tours of American Opera Idol and The Night Harry Stopped Smoking, while serving as Education Coordinator for RO. Other roles include Lula in Venture Theatre's Violet and as an actor in the 2010 Wet Ink Festival at Venture Theatre. Recently, Kristy sang the role of Frasquita in the Carmen Quintet for the 2013 NOVA Summer Festival.
At MSUB, Miss Dallas has been an active member of CLEFS and DVAAS and also teaches voice. She is the daughter of Gilbert and Sharon Dallas. Kristy would like to thank her professors, family and friends for their continual support in her singing career.
Kristy is a student of Douglas Nagel and will perform works by Mozart, Mascagni, de Falla, Offenbach, and Andrew Lloyd Webber, accompanied by pianist Gail Briceño. Dr. William Mouat, baritone, will be the guest artist.
For more information on this recital or other details of the Music Department programs, call 657-2350 or go to www.msubillings.edu/cas/music/.
PHOTO ABOVE: Vocalist Kristy Dallas