University Communications and Marketing
MSUB Holiday Season Concerts set for December
November 20, 2013
Contacts:
Department of Music, 657-2350
Doug Nagel, Department of Music, 657-2048
University Relations, 657-2269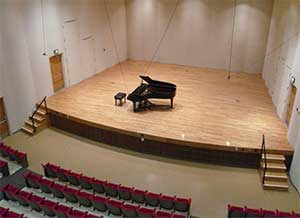 MSU BILLINGS NEWS SERVICES —The 45-voice University Chorus and 20-member Chamber Singers of Montana State University Billings will present their Holiday Season Concert twice in December.
Under the direction of Doug Nagel and accompanied on the piano by Kathy Honaker, the groups will perform carols and holiday songs, including Coventry Carol; Lo, How a Rose; Go,Tell it on the Mountain and the Adoration of the Magi from the movie "Ben-Hur". Concerts will be held Saturday, December 7 at 7:30 p.m. and again, Sunday, December 8 at 3:00 p.m. in Cisel Recital Hall on the main campus. Admission is $5 for adults and $3 for seniors and students. MSU Billings faculty, staff and students with current ID are admitted free of charge. For more information on the concerts, please call Doug Nagel at 657-2048.
PHOTO ABOVE: Cisel Recital Hall on the MSU Billings University campus