University Communications and Marketing
New Lounge Provides Special home for Veteran Students
November 6, 2013
Contacts:
Trudy Carey, Disability Support Services, 657-2161
University Relations, 657-2269
MSU BILLINGS NEWS SERVICES — Montana State University Billings student Alisha Padgett served in the Navy as an aviation electronic specialist, doing part of her stint in Japan. Since then, she's made the transition from active military to college student. When she came to MSU Billings to study a year ago, it wasn't the coursework or the schedule that made the transition difficult. It was finding common ground with the other students.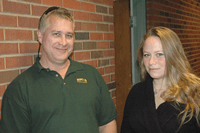 "I'll get in a conversation with a group of students and start telling them something about Japan, and they're back in their own conversation about a house party over the weekend," Padgett said.

When she met recently with four other veterans who are also pursuing degrees at MSU Billings, she was relieved to find her niche.
Another Navy veteran, Wyat Burr, told her, "Now, you have four new friends."
Padgett and Burr are part of a growing group of veterans attending college across the country. At MSU Billings, there are almost 300 veterans enrolled in classes and Trudy Carey, director of disability support services, said that number is expected to double over the next five years.
To support those veterans returning to school, the Montana Legislature provided $1 million to be distributed among Montana's state colleges and universities. MSU Billings is using a portion of its share to renovate a room in the Student Union Building into a veterans lounge. It will be completed on Veteran's Day and dedicated on Nov. 12 at 2:00 p.m.
Combined, MSU Billings and the City College were allocated $156,825 to spend on veteran support.
Plans are to have Lou Lacy, president of the MSU Billings veterans club, hand off a flag that has flown over the U.S. Capitol in Washington, D.C. Rep. Steve Daines office will also be involved in the dedication.
The new lounge will have leather recliners, four X-boxes, a computer, and a table and chairs for study space.
Another lounge for veterans opened and was dedicated at the City College campus on Sept. 11.
In addition to the lounge, MSU Billings is creating a new position, a veteran support coordinator, to assist veterans returning to the classroom.
Carey said plans are to have the new coordinator in place before the end of the year. MSU Billings' efforts have not gone unnoticed. Navy veteran Sharon Carpenter said pursuing her accounting degree has not been without its bumps. When she had knee surgery, it was a challenge to schedule appointments with the VA Clinic that didn't conflict with her class schedule. Some professors understood the disruption, others did not. Having a veteran support coordinator in place to better communicate her special needs to instructors will be a big help, Carpenter said.
For more information about the dedication of the veterans lounge on the university campus please contact Trudy Carey, Disability Support Services Director, at 657-2161
PHOTO ABOVE: Navy veteran Alisha Padgett, right, and project manager Ron Huck pose for a picture outside the site of a new veteran's lounge on the University campus.