University Communications and Marketing
Noyce Grant set to make an impact on rural education
November 4, 2013
Contacts:
Noyce Scholarship Website
University Relations, 657-2243
Thanks to a recent grant, rural Montana educators will now be better prepared to teach science and math.
MSU BILLINGS NEWS SERVICES — For struggling schools in rural Montana, attracting teachers is hard enough. Finding highly trained math and science teachers is even harder.
With the help of Montana State University Billings, those small communities now have an innovative solution to the teacher shortage: They can grow their own.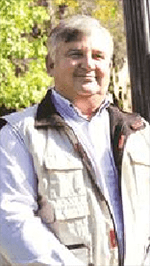 The university has won a $1.2 million Robert Noyce Teacher Scholarship Program Grant through the National Science Foundation. With the money, the university is developing a program that will recruit and prepare gifted math and science students to become teachers at those high-need secondary schools.
Ideally, the recruits will come from the communities where those schools exist.
"The idea is that if you recruit students from those places, chances are when they become teachers they will return and stay there," said MSUB Professor Kenneth Miller, left, who chairs the university's Department of Educational Theory and Practice.
The Noyce Grant will be dispersed over three years, providing highly competitive scholarships for as many as 17 students. For each year those students are granted a scholarship, they commit to teaching two years in high-needs schools.
One element of the program is being specifically designed to break through with the "reluctant learner," Miller said. "These teachers will not only be learning effective ways of teaching math and science, but how to teach those concepts to kids who many times have given up."
Recruiting efforts will be especially strong among students attending of the state's seven Native American tribal colleges, he added. The challenge of attracting and retaining specialized teachers in rural Montana is compounded on Indian reservations where cultural differences can be difficult for non-Native teachers.
"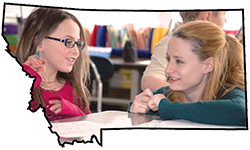 It's hard to expect that anyone from outside that culture can come in and be cognizant of all the differences right away, and appreciate the cultural differences," Miller said. To help with that, and any other challenges the new teachers may face, the scholarship program is also recruiting and training mentors, said Dr. Stuart Snyder, professor of physics at MSUB.
One of those trained mentors has taught at a reservation school, he added. "We're really after the dedicated student, the ones who want to help and are already dedicated to the communities where they will serve," Snyder said.
A grant and teaching program kickoff event is slated for Friday Nov. 8, 2013. The event will take place at 11 a.m. at the MSU Billings Downtown Campus located at 112 North Broadway. Local media are welcome to attend the event to learn more about the impact on rural Montana schools. For additional information on the specifics of the grant and its impact on rural Montana please contact Dr. Ken Miller, Chair Educational Theory and Practice, at 657-2034.
PHOTOS ABOVE: 1) Dr. Ken Miller, professor at MSU Billings; 2) a MSUB student teacher helps a young pupil.