University Communications and Marketing
MSUB introduces Balog as men's soccer coach
May 23, 2013
Story by Michael Bazemore, Assistant Director of Operations and Media Relations, Yellowjacket Athletics
MSU BILLINGS NEWS SERVICES — Montana State Billings Director of Intercollegiate Athletics, Krista Montague, has made her first official head coach hire with the appointment of Alex Balog as the men's soccer coach. Since the program's start in 1996, Balog becomes the sixth head coach to lead the Yellowjackets' program.
"I would like to thank Chancellor Rolf Groseth and Krista Montague for entrusting me with this opportunity," stated Balog. "Their support is vital in the development and progression of our program. Now that this search is over, we can truly start building for the future."
Balog, who held the Interim Head Coach title from Feb. 18, has been a part of MSU Billings men's soccer program since 2011 as an assistant under Dan McNally. Over the past two seasons he has helped the Jackets record an overall record of 19-13-4. Balog succeeds McNally, who recently accepted a position with the University of Cincinnati. After leading the program for seven years (2005-2012), McNally finished his tenure No. 1 all-time in career victories (71-63-10).
"Coach McNally has done a tremendous job at MSUB, and now I want to take this program to the next level by building on his work," Balog said. "The upcoming season will be my third year with MSUB men's soccer so I know the challenges we have to tackle, and which advantages we hold. Having this knowledge helps us hit the ground running."
"I'm very happy for Alex," McNally stated. "He is a very good coach and I am looking forward to watching the program continue to improve in the future."
Balog, who has extensive expertise in goal keeping, helped the Yellowjackets defense record five shutouts and 63 saves in 2012. Senior Defender Conner Moe earned second team All-GNAC honors and third team NSCAA All-West Region honors; while freshman Defender Cameron Lee and Goalkeeper Eoin Hurley received All-GNAC honorable mention honors.
Over the past four months, Balog has been working diligently in his recruiting efforts, signing 15 student-athletes to MSUB.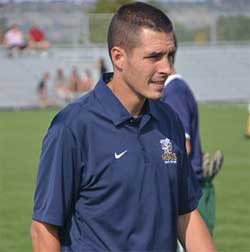 "I am very excited about the recruiting class we are bringing in and I'm confident we will do well if our team develops chemistry early," stated Balog.
Prior to MSU Billings, Balog was at NAIA soccer powerhouse, Auburn University Montgomery (AUM) in Montgomery, Ala., where he was an Assistant Coach to Wulf Koch for two seasons (2009-10). While in Alabama, Balog also coached for the Olympic Development Program and was the Director of Goalkeeping for the FC Torjager club based in Montgomery. He was also a head coach at Lamp High School where his team went 17-3, and was involved in numerous camps throughout the South.
In the summer of 2012, Balog was an Assistant Coach for the Colorado Rapids Women team of the United Soccer League's National Women's League. The W-League team finished its inaugural season fourth with a 5-5-4 record and the U-20 developmental team won the Super 20's National Youth League Championship.
"After conducting a national search, we are pleased to announce that Coach Balog will be moving from his interim role as head coach to the permanent job," Montague said. "He has worked hard as the interim, and we are looking forward to meeting his first recruiting class in August. I am confident the student-athletes under his care will work hard not only in the classroom but also on the soccer field and strive to bring the program their first GNAC conference title and NCAA tournament appearance."
Since joining the Yellowjackets' program, Balog has also been an integral member throughout the Billings community. He is active with the Magic City Soccer Club in numerous capacities; helping coach the U-16 Boys to a 2012 Montana state championship. Balog is also the Director of Goalkeeping for the club.
"I would like to thank everyone who has supported me throughout this search; family, friends, colleagues, the administration, and the community," stated Balog. "Without their support this process would have been very difficult."
The Yellowjackets return 11 members from the 2012 roster including, two all-conference selections.
"We are confident in Alex's ability to lead our men's soccer program, and look forward to continued success under his guidance," Montague said.
A press conference will be held at 3:00 p.m. on Tuesday, May 28 in PE 122 (athletics conference room) inside the Physical Education building to officially introduce Balog as the head men's soccer coach.