University Communications and Marketing
MSUB removes interim tag and officially announces Krista Montague as athletic director
May 13, 2013
Contacts:
Barrett Henderson, Yellowjacket Athletics, 657-2130
Aaron Clingingsmith, University Relations, 657-2243
MSU BILLINGS NEWS SERVICES — After conduction of a nationwide search, Chancellor Rolf Groseth and Vice Chancellor for Student Affairs, Stacy Klippenstein have named Krista (Fjelstad) Montague the next director of athletics at Montana State University Billings.
Montague, currently interim athletic director, will assume the helm of Yellowjacket Athletics on June 1.
"Krista will have the opportunity to build upon an already stellar career at MSUB," commented Dr.Groseth. "We are excited that she has accepted the position and look forward to her being our leader for years to come."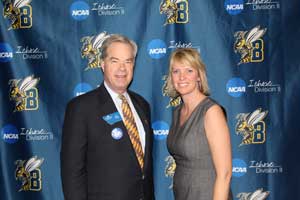 Montague graduated from nearby Hysham High School in 1995. Following a standout high school basketball career, Montague joined the Yellowjacket Women's program in the fall where she immediately had an impact on the squad. Her career as a student-athlete culminated with a trip to the West Region Championship and the programs first and only Elite Eight appearance. Montague was a four-year letter winner and still holds the school record for career free throw percentage.
"My time as a student-athlete was extremely important," reflected Montague. "I learned so much from that period in my life and it has helped me get to where I am today. I owe a lot of my success to my family, teammates, fellow students, the faculty and staff of MSUB, and most importantly; all the Yellowjacket fans who supported me as a player."
Montague began her employment with MSUB in July of 2002 as the athletic department's director of development and marketing. Shortly after being hired, she was appointed to the position of senior woman administrator, making her the highest-ranking female administrator in the department. In 2005, the title of assistant athletic director and NCAA compliance coordinator were added to her duties. In 2009, Montague was promoted to associate athletic director were she oversaw NCAA II compliance for each of the 17 sports and co-ed cheer. Since fall of 2012 she has been the interim athletic director, taking over for Dr. Gary Gray.
"Krista is a perfect fit for this position," stated Vice Chancellor for Student Affairs, Dr. Stacy Klippenstein. "She bleeds Yellowjacket blue and yellow and has done an incredible job as the interim athletic director this past year. I am proud of her accomplishments and believe she will be a shining star for MSUB and the Billings community."
Krista and her husband Brent have two children, Shayla and Allie.
A formal press conference will be held in the Student Union Building Atrium on Wednesday, May 15 at 2:00 p.m. For additional information on the press conference contact Barrett Henderson, Yellowjacket Media Relations at 541-805-5687 or Aaron Clingingsmith, Director of University Relations at 546-6022.
PHOTO ABOVE: MSUB Chancellor, Rolf Groseth and MSUB Athletic Director, Krista Montague pose for a photo after the official announcement that Montague will assume the role of Athletic Director on June 1.