University Communications and Marketing
University Chorus and Chamber Singers set to perform springtime melodies
March 30, 2013
Contacts:
Department of Music, 657-2350
Aaron Clingingsmith, University Relations, 657-2269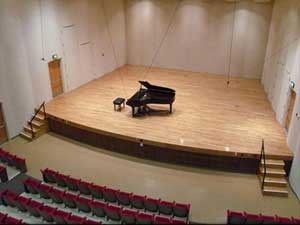 MSU BILLINGS NEWS SERVICES — Join the MSU Billings University Chorus and Chamber Singers for two concerts of springtime melodies on Wednesday, April 3 at 7:30 p.m. and Thursday, April 4 at 7:30 p.m., in Cisel Recital Hall on the MSU Billings campus.
The choirs, under the direction of MSU Billings Assistant Professor Doug Nagel, and accompanied by pianist Sandi Rabas sing "Songs of Springtime" featuring soloists Désja Eagle Tail, Jason Webster, Kristy Dallas, Judith Lacy, Jessica Garibay, Katelynn Meyer, Madyson Rose Feuerstein, Joseph Frank, Adam Reiter, Andrew Eck and Gavin Askin.
Tickets, which can be purchased at the door, are $5 for adults and $3 for seniors and students. MSU Billings students and faculty, with current ID, are admitted free. Advance tickets may be purchased from any member of the CLEFS Club, the University Chorus or Chamber Singers.
For more information on the concert or the music offerings at MSU Billings, call 657-2350 or go to www.msubillings.edu/cas/music/.
PHOTO ABOVE: Cisel Recital Hall, above, will host two concerts this upcoming week.