University Communications and Marketing
MSU Billings music student presents Junior Recital April 5
March 28, 2013
Contacts:
Department of Music, 657-2350
Aaron Clingingsmith, University Relations, 657-2269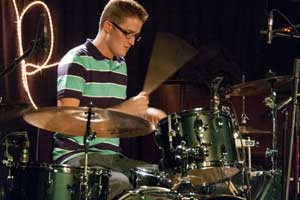 MSU BILLINGS NEWS SERVICES — Devin Kennedy will be performing his Junior Recital on Friday, April 5, 2013 at 7:30 P.M. in the Cisel Recital Hall on the University campus. Devin is a student of Luke Kestner and Matt Devitt. He has participated in various ensembles at Montana State University Billings including Symphonic Band, Jazz Band, Pep Band and Percussion Ensemble.
Devin is an active drum-set player around Billings and has played with a variety of different bands that span a number of musical genres. He has performed with Venture Theater and will be playing with the Billings Symphony next month. His recital will consist of pieces for drum-set, marimba, vibraphone, and timpani. It will feature works by Evelyn Glennie, David Friedman, Murray Houlli, Jeffrey Peyton, Ennio Morricone and a drum-set duet that Devin composed. Devin will be joined by fellow music students Brad Knutson and Tyler Briceno. The event is free and open to the public.
For more information on the music program offerings at MSU Billings, call 657-2350 or go to www.msubillings.edu/cas/music/.