University Communications and Marketing
Faculty recital shows off talented teachers
March 20, 2013
Contacts:
Department of Music, 657-2350
Aaron Clingingsmith, University Relations, 657-2269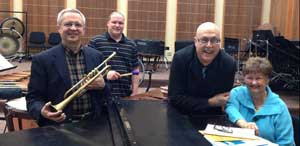 MSU BILLINGS NEWS SERVICES — The MSU Billings Department of Music will be presenting a Faculty Recital on Tuesday, March 26 at 7:30 P.M. in the Cisel Recital Hall on the University campus.
The recital will feature Mark Fenderson, trumpet, Luke Kestner, percussion, and Doug Nagel voice. They will be accompanied by pianist Sandi Rabas.
The program will include music by Sachse, Kestner, Peaslee, Cahn, Ewazen and Halligan.
More information can be found on the department website: www.msubillings.edu/cas/music, or by calling 406-657-2350. Admission is free.
PHOTO ABOVE: Music faculty Mark Fenderson, left, Luke Kestner, and Doug Nagal take a break from rehearsal to pose for a photo with accompanying pianist Sandi Rabas.