University Communications and Marketing
Community partners bring autism conference to Billings
June 28, 2013
Contacts:
Laura Gttings-Carlson, Extended Campus 896-5882
Aaron Clingingsmith, University Relations, 657-2269
Conference begins August 1, 2013, at the MSU Billings Library on the University campus
MSU BILLINGS NEWS SERVICES — MSU Billings in conjunction with Easter Seals-Goodwill, Parents Let's Unite for Kids (PLUK), and The Montana Autism Education Project are hosting the 2013 Autism Conference: Connecting the Dots Through Transition. The two-day conference will be held at the MSU Billings Library on the University campus starting August 1 and will conclude August 2.
Autism Spectrum Disorder (ASD) is a neurodevelopmental disorder that represents a range of symptoms from mild to severe and affects overall developmental status in social communication and other relevant cognitive and motor behaviors. In 2013, a study released by the CDC found the number of children affected by ASD to be roughly 2% of the US population, or 1 in 50.
The conference will show how communities of support for individuals with ASD are necessary in order to bring about effective treatment, education, and inclusion. This conference is open to all interested persons (teachers, therapists, counselors, medical professionals, parents, and community members).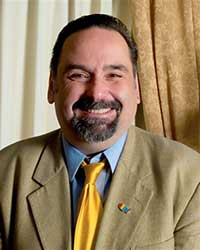 Day one will be dedicated to this year's VIP Speaker, Dr. Peter Gerhardt. Gerhardt, right, is Director of Education, Upper School for the McCarton School and the Founding Chair of the Scientific Council for the Organization for Autism Research (OAR). He has over 30 years-experience utilizing the principles of Applied Behavior Analysis in support of adolescents and adults with ASD in educational, employment, residential, and community-based settings. Gerhardt will present Bridges to Adulthood: Preparing individuals with Autism for Adult Lives of Competence, Dignity, and Community Inclusion.
Day two includes breakout sessions for parents, educators, and other professionals. Among the many great sessions is a Parent Panel which provides an opportunity to hear first-hand from local parents with children who have been diagnosed with ASD. Their stories will inspire, educate, and ultimately bring us closer together as we strive to improve the lives of individuals with autism.
The cost of the conference is $150 and includes breakfast and lunch both days. Office of Public Instruction (OPI) renewal units are available as is (one) graduate or undergraduate college credit for an additional fee.

Download Conference Flyer
PHOTO ABOVE: Dr. Peter Gerhardt