University Communications and Marketing
MSU Billings selects new facilities director
January 23, 2013
Contacts:
Dan Carter, University Relations, 657-2269
MSU BILLINGS NEWS SERVICES — Jason McGimpsey, assistant director of facilities services at Montana State University Billings, has been selected as the new director for that department.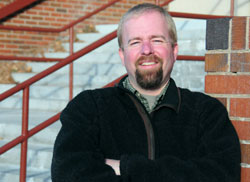 His promotion takes effect immediately. He succeeds Eakle Barfield, who retired in December after 15 years of service as director of facilities services.
McGimpsey, who graduated from Billings Skyview in 1990, earned his master's degree in architecture and a bachelor's degree in environmental design from Montana State University in Bozeman. He has had a wealth of experience in project planning / management in the public and private sector, including several large projects for the National Park Service. He moved from the private sector to join MSU Billings in May 2010 as assistant director of facilities services. He oversaw the placement and construction of the Montana 9/11 Memorial at City College in 2011, led last year's renovation of the Student Union Building, and has managed a multitude of other capital improvement projects throughout the University.
Terrie Iverson, the vice chancellor for administrative services at MSU Billings, said McGimpsey's experience and record of achievement at MSU Billings makes him a perfect fit for the job. He was selected after a national search process netted several qualified applicants.
"Jason has done excellent work for us in short time here and his overall portfolio of work is exceptional," Iverson said. "He also has demonstrated outstanding leadership with the facilities staff, which makes it even more gratifying to see this promotion take place."
As far as future plans, McGimpsey said he wants to capitalize on the progress that has already been made, utilizing his broad skillset and background to address opportunities and challenges as they arise.
"The first goals are in keeping my department moving forward and ensuring we have a healthy, safe and progressive learning environment for our students, faculty and staff," he said.
PHOTO ABOVE: Jason McGimpsey