University Communications and Marketing
MSU Billings music student presents junior recital Jan. 28
January 18, 2013
Contacts:
Department of Music, 657-2350
Dan Carter, University Relations, 657-2269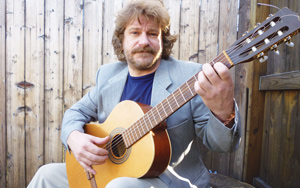 MSU BILLINGS NEWS SERVICES — Keith Yoder, a music performance major at Montana State University Billings, will perform his Junior Recital on Monday, Jan. 28 at 7:30 p.m. in Cisel Recital Hall on the MSU Billings four-year campus. The recital is free and open to the public.
Yoder, who is a student of Elizabeth Adcock, will perform works from Fernando Sor, Atanis Ourkouzounov, Johann Kaspar Mertz, Matteo Carcassi, Nicolo Paganini, Heitor Villa Lobos and his own compositions.
Yoder was born and raised on a small farm in Andover, Ohio. He learned to play country/folk guitar from his father and grandfather starting at the age of four. As an adult, he has played with numerous bands and has performed guitar all over the U.S. while working as a carpenter. Four years ago, he decided to embark on a new career in music composition at the University of Montana in Missoula. He has since relocated to Billings and is currently writing movie music for a client in London while pursuing his degree in classical guitar performance.
For more information on the music program offerings at MSU Billings, call 657-2350 or go to www.msubillings.edu/cas/music/.
PHOTO ABOVE: Keith Yoder