University Communications and Marketing
MSUB pianist wins statewide competition
January 18, 2013
Contacts:
Department of Music, 657-2350
Dan Carter, University Relations, 657-2269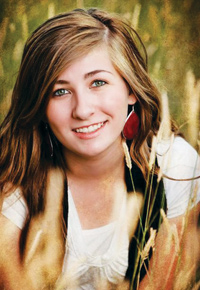 MSU BILLINGS NEWS SERVICES — Emily Walker, a piano performance major at Montana State University Billings, recently won the Montana Association of Symphony Orchestra's Young Artist Division in a statewide competition.
Walker, a sophomore from Billings and a student of Dorothea Cromley, will receive a $650 stipend and the opportunity to perform with the Billings, Bozeman, Great Falls and Helena symphonies this year. Walker performed the "Saint Saens Piano Concerto in g minor" and will perform this concerto with the various orchestras.
For more information on the music program offerings at MSU Billings, call 657-2350 or go to www.msubillings.edu/cas/music/.
PHOTO AT RIGHT: Emily Walker