University Communications and Marketing
MSU Billings' MLK events note the power to make a difference
January 15, 2013
Contacts:
Tammy Rea, Diversity Center,
Dan Carter, University Relations, 657-2269
Students, faculty, staff are encouraged to remember that 'Change Starts with One"
MSU BILLINGS NEWS SERVICES — Paying homage to the lessons of history and honoring the power of an individual to make a difference, the faculty, staff and students at Montana State University Billings will use events surrounding Martin Luther King Jr. Day next week as a springboard for greater understanding and change.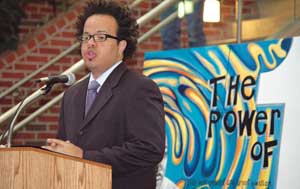 Emphasizing that "Change Starts with One," organizers of the annual week of reflection and action have scheduled a week of special presentations, art, expression and service to honor the work and legacy of the famous civil rights leader. While MSU Billings is a diverse community of learners, scholars, educators, athletes, mothers, fathers and international students, there are opportunities for individuals to make a difference.
"While Martin Luther King's legacy was written decades ago, we are still marching on and toward his dream," said Tammy Rea, the Diversity Center Coordinator at MSU Billings and one of the organizers of the weeklong event. "We do not live in a perfect world, yet we can be kind, respectful, and open to those whose paths we cross. Fear of the unknown and unfamiliar keep walls built around us and it can feel safe. However, taking a risk and stepping out of our comfort zone can be invigorating and freeing as well."
For two decades, MSU Billings has sponsored the national bell ringing ceremony on MLK Day as an educational community event. The additional events are designed to further engage students and the community in a more diverse way. All events are open to the community.
"The Legacy of MLK at MSUB," begins the weeklong series of events on Monday, Jan. 21 with the annual bell-ringing ceremony. The week concludes on Saturday, Jan. 26 with a university-led service project.
The events are coordinated by a coalition of faculty, staff and students. Groups involved in planning include the Office of Community Involvement, the Residence Hall Association, the Office of American Indian Outreach, Diversity Center, the Student Activities Board and Associated Students of Montana State University Billings.
Following are highlights of the events: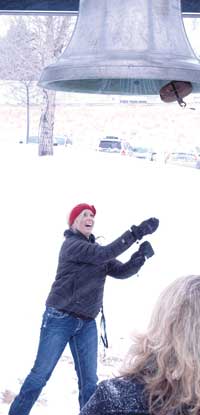 Monday, Jan. 21 — Martin Luther King Jr. Ceremony
9:50 a.m. / Peaks to Plains Park: National Bell Ringing Ceremony begins at Peaks to Plains Park at the MSU Billings four-year campus, 1500 University Drive. Following the bell ringing, participants are invited to proceed to the Student Union Building for other ceremonies and the annual MLK Day program. Guest speaker is Eran Thompson, who has been active in the Not in Our Town organization, and will recite one of King's speeches. The event will also feature special music by MSU Billings students. The presentations will be followed by a pancake brunch. Free.
Tuesday, Jan. 22 — Embracing and understanding differences
All day: Construction of "Walls of Hate" in the Student Union Building, Liberal Arts Building and at City College will take place to bring awareness to words, concepts and actions that divide us.
7 p.m. / SUB: Join the faculty, staff and students for an "Open Mic Night" at Stingers Bistro in the SUB. The event celebrates creativity from all ages and creeds. Free.
Wednesday, Jan. 23 — Change starts with the individual
7 p.m. / SUB: Join students and the Diversity Center in discussions about diversity at the university. Free.
Thursday, Jan. 24 — Embracing and understanding differences
Noon: Destruction of the "Walls of Hate" at different locations and construction of "Walls of Hope" in the SUB, Liberal Arts Building and at City College. Free.

7 p.m.: Students, faculty and staff and alumni are encouraged to show their MSUB pride by wearing MSUB T-shirts at the Yellowjacket men's basketball game. Students admitted to the game free with current valid student ID.
Friday, Jan. 25 — Diversity Center open house
Noon: All are invited to take in a talk by special author and civil rights attorney Bobbie Zenker in Banquet Room A/B in the SUB. Zenker is the author of "Transmontana," the story of a Montana hunter and county attorney who made the transition from a male, popularly elected public official to modern, professional woman.

1-3 p.m.: Staff, students, faculty and community members are invited to stop by the new Diversity Center in the MSU Billings Student Union Building, Room 223. Student mentors and others will be there with light refreshments and information. Free.
Saturday, Jan. 26 — Service Saturday
10 a.m. to noon: All are invited to meet in the Student Union Building near the campus store for a Service Saturday project that focuses on community hunger. Free.
In addition, faculty and staff will be encouraged during the week to take an extra step to make the difference in the life of another person, whether that is work-related or personal. Those who tell their stories in the "Random Acts of Kindness Challenge" will be entered into a drawing for recognition at the end of the week.
"I invite every student, staff, faculty, administrator and guest frequenting MSUB this next week to step out of their comfort zone," Rea said.
For more information on "The Power of One" events at MSU Billings, contact Rea at trea@msubillings.edu or by calling 896-5902. To find out more about the Service Saturday project, contact Kathy Kotecki in the Office for Community Involvement at 657-1660 or at kkotecki@msubillings.edu.
PHOTOS ABOVE: Eran Thompson, a member of the Not In Our Town organization, gives a recitation of one of Martin Luther King Jr.'s speeches during the "Power of One" week events at MSU Billings in January 2012. Thompson will be a part of this year's events, which begin on Monday, Jan. 21 with the annual MLK Day bell-ringing ceremony at MSUB's Peaks to Plains Park. Below, an MSUB student rings the bell last year.