University Communications and Marketing
Music performance major presents flute recital on Jan. 19
January 10, 2013
Contacts:
Department of Music, 657-2350
Dan Carter, University Relations, 657-2269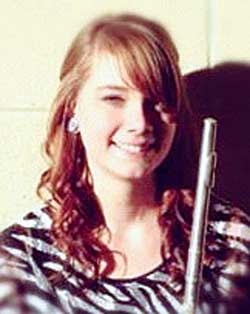 MSU BILLINGS NEWS SERVICES — Samantha Hamburg, a Montana State University Billings music performance major from Savage, will perform her junior flute recital on Saturday, Jan. 19 at 7:30 p.m. in Cisel Recital Hall. The recital is free and open to the public.
Hamburg graduated from Savage and studied flute with Betty Cumming of Sidney. During her junior and senior years in high school, she was selected to perform at the Dickinson State University and Minot State University music festivals. Beginning in the summer of 2004, she attended the International Music Camp where she studied with professional performers and teachers from all over the country. In the summer of 2008, she attended a three-week university preparatory course at the International Music Camp and was chosen to perform in the camp's orchestra, which included musicians from 13 different countries. It was during that summer that she was chosen from over 2,500 camp attendees as the "Most Outstanding Female Musician."
Upon graduating from high school in 2009, Hamburg attended Dawson Community College as a music technology major for one year before transferring to MSU Billings as a music performance major. She is active in the Department of Music at MSU Billings and performs in the Symphonic Band, Jazz Ensemble and the Pep Band and is a student of Gary Behm.
Hamburg's recital will include works by Handel, Mozart, Hindemith and Poulenc. She will be accompanied by pianist Delores Vigesaa.
For more information on the music programs at MSU Billings, contact the Department of Music at 657-2350 or go to www.msubillings.edu/cas/music/