University Communications and Marketing
Director of Student Opportunity Services named VIP Woman of the Year by the National Association of Professional Women
December 20, 2013
Contacts:
Kelly Buck, Director of Student Opportunity Services, 657-1668
Carmen Price, University Relations, 657-2269
MSU BILLINGS NEWS SERVICES — Kelly Buck, director of Student Opportunity Services at Montana State University Billings, was named VIP Woman of the Year by the National Association of Professional Women on Thursday for her leadership and commitment within her profession of academic services.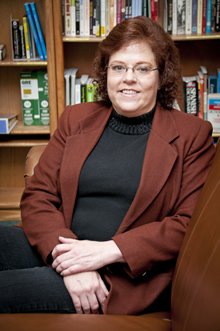 NAPW—a networking community comprised of more than 500,000 members and spanning 400 regional chapters— is dubbed the largest, most recognized organization of women in the nation. Buck has been a member of the Billings chapter for six months.
"It's an honor to be recognized for doing a job that I absolutely love," Buck said Friday. "But, the real honor is providing assistance daily to students in their journey to identify and realize their true potential."
Buck took lead of Student Opportunity Services and TRiO in 2010—federally-funded outreach and student services programs designed to identify and provide services for individuals from disadvantaged backgrounds. The programs are targeted to serve and assist low-income individuals, first-generation college students and individuals with disabilities to progress through the academic pipeline from middle school to post-baccalaureate programs.
Buck also co-chairs MSUB's Diversity Initiative Group—a faculty and staff organized committee that works to create an inclusive campus environment focusing on education, service and community involvement to achieve cultural competence that respects and values all aspects of diversity.
"She has no ego, what she does is solely for the students," said Dan Benge, director of Upward Bound and TRiO. "No one should be surprised she won because she is a quality person and an awesome individual on campus."
Buck said she is grateful for the recognition because it helps bring focus to the much-need student opportunity services programs at MSUB.
"The impact these services have on our students' success and their ability to become engaged community members is tremendous," Buck said. "We work hard and are dedicated to helping break down the barriers they may be facing."
Buck can relate. She, too, faced many obstacles when considering a college education—a single mom of three at the young age of 23, she had to work several jobs just to make ends meet. Despite her difficult circumstances, or maybe in spite of them, Buck said she always worked hard to instill the importance of college education to her two daughters and son.
"It was hard to be that role-model for my kids though, because I myself didn't have a college degree," she said.
That all changed when Buck enrolled into MSUB's College of Allied Health Professionals in 2002, with the help of Student Opportunity Services. Before she could fully utilize the services offered, the office hired Buck as a peer mentor and tutor, assisting other students with their academic success.
Today, 47-year-old Buck holds a bachelor's degree in human services from MSU Billings and a master's in social work from the University of Washington. And, all three of her children are students at MSUB.
"My passion is to strive for and promote social justice for everyone," Buck said. "My mother raised me to always put myself in others' shoes—and I always have. I've always rooted for the underdog."
Buck said more than half of the MSU Billings student body meets the criteria served by Student Opportunity Services; however the federal grant only slates services for 250 students each academic year. Of those, more than half are first-generation degree seekers; 36 percent are low-income; and 20 percent are both.
Buck's leadership and commitment to student success is evident in the 17 percent retention increase from 2012 of first year students in the program.
"If we want the best and the brightest, we can't overlook diversity," Buck said. "And we have to focus on creating solutions and helping people see that college is a possibility."
PHOTO ABOVE: Kelly Buck