University Communications and Marketing
Grant helps Social Security disability beneficiaries
December 26, 2013
Contacts:
Tiffany Costa, Montana Center for Inclusive Education, 657-2098 or tiffany.costa1@msubillings.edu
Aaron Clingingsmith, University Relations, 657-2243
MSU BILLINGS NEWS SERVICES — The Social Security Administration and Montana Center for Inclusive Education have entered into cooperative agreement to help Social Security disability beneficiaries attain employment and achieve their vocational goals.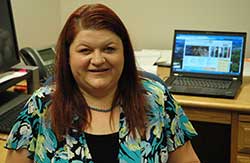 The project—Work Incentives Planning and Assistance (WIPA) — is part of the Ticket to Work and Work Incentives Improvement Act of 1999. The program aims to promote employment and greater independence for people with disabilities who are initially entering, or re-entering, the workforce. Beneficiaries of the program receive career counseling, help with job placement and ongoing employment support services.
Tiffany Costa, the Inclusive Center's community work incentive coordinator, is able to utilize a variety of community networks such as Community Rehabilitation Partners, job service centers, mental health centers and Vocational Rehabilitation to assist in the identification of individuals with disabilities that could benefit from WIPA. Costa provides statewide coverage free of charge and can meet with beneficiaries outside of the Billings area remotely or in person.
If you know someone who could benefit from the WIPA project, or would like additional information, please contact Costa at (406) 657-2098 or via email at tiffany.costa1@msubillings.edu.
The Montana Center for Inclusive Education, located in the College of Education building on the University campus, has been part of MSU Billings and Eastern Montana College for more than 60 years. As a public service unit, the staff works with campus, state, regional and national programs to create an inclusive society that values diversity.
PHOTO ABOVE: Tiffany Costa, MHA, provides employment and vocational assistance to Social Security disability beneficiaries as part of a federal grant awarded to the Montana Center for Inclusive Education. Program incentives are free of charge to people with disabilities that are entering, or re-entering, the workforce.