University Communications and Marketing
Giving back: alumni design blueprint for current student success
December 16, 2013
Contacts:
Sarah Brockel, Director of Alumni Relations, 247-5781
Carmen Price, University Relations, 657-2269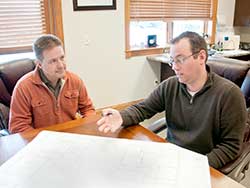 MSU BILLINGS NEWS SERVICES — For Eastern Montana College Alumni Mark and Angie Dawson, the blueprint for life is giving back.
Central Montana natives, the Dawsons both graduated from what was then Eastern Montana College—Mark with a bachelor's in mass communications in 1990 and Angie with a bachelor's in elementary education in 1993.
"It's important to be engaged in things that matter," Mark Dawson said. "For us, that's being engaged with higher education, building positive relationships and the continual quest to provide a productive and positive working atmosphere. And, perhaps most importantly, it means giving back."
Montana State University Billings has been a longtime beneficiary of the Dawsons' generosity. Most recent, the couple's businesses—Century 21 Hometown Brokers and Classic Design Homes—partnered with City College to create the blueprint of a groundbreaking project for carpentry students.
In September, the Construction Technology-Carpentry program teamed up with Classic Design Homes to provide students with the hands-on experience of building a home from the ground up.
Developed as a six-credit capstone course, the project will span over two semesters, requiring students to be on-site 25 hours each week. The students' efforts will culminate with the home being featured in the annual New Home Showcase in June, teaching students aspects of local home sales.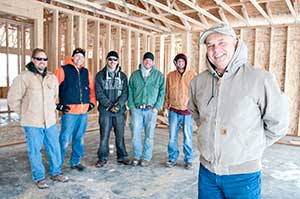 Dawson said proceeds from the event will benefit, in part, carpentry program scholarships and materials. Dawson said he anticipates the donation will be upward of $12,500.
Five students in the carpentry program and their instructor Terry Madtson have worked closely with Classic Design Homes on the blueprints and foundation of what will be a 2,658 square-foot house on Billings' West-end.
The ranch-style house, located at 4002 Wild Ridge Meadows Drive, will feature four bedrooms, three bathrooms, a finished basement, three-car garage and a partially covered back deck.
Formed in 2006, the carpentry program provides students with skills required to work in a variety of construction settings common in both rural and metropolitan areas. The program is modeled after the "House as a System" design to integrate concepts with application of building a house from the ground up.
The two-year programcoursework includes understanding building codes, blueprint reading and sketching, estimating, site layout, concrete work, framing, interior and exterior finish, cabinet making and installation and deck work. Graduates earn an Associate of Applied Science or Certificate of Applied Science degree upon completion of the curriculum.
MSUB Alumni Relations Director Sarah Brockel said the project partnership is a notable example of how alumni support helps ensure the success of MSU Billings students.
"This collaboration is much more than building a home," Brockel said. "It is creating a foundation of cooperation in the Billings community."
Madtson said students involved in the project are gaining an educational foundation and an expansive perspective into the construction industry. "More important, they are making connections in the community which could lead to future employment."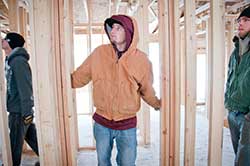 Brady Henderson, a sophomore in the program, said he and his classmates have already been approached by Classic Design Homes about summer employment.
"This has been a great opportunity to meet potential employers," Henderson said. "This opportunity has really taught us every facet of the trade."
"It's important to bridge the community and the University," Dawson said. "That's really what this project is all about."
Dawson said the Billings building industry is always looking for skilled carpenters, foremen, drafters and project managers. And although the partnership is mutually beneficial, he said the idea ultimately is to support the students.
"It makes sense to support the students because the University is generating the educated workforce required to support our local economy," Dawson said.
In fact, Brockel said that of about 27,000 MSU Billings and Eastern Montana College alumni, nearly half are living and working in Yellowstone County.
The Dawsons' most recent support for City College builds on nearly a decade of contributions they've made to MSUB and student scholarships.
In 2011, Alumni Relations presented Mark Dawson with the Exceptional Achievement Award as part of the 29th Annual Outstanding Alumni Awards. The recognition is given to alumni who have made exceptional contributions to society, their professions and the University. He presently serves on the Foundation Board of Trustees.

"Mark and Angie have been so supportive," Brockel said. "We are inspired to have that kind of commitment from our alumni. It is public-private partnerships like this that benefit MSUB and our community."
PHOTOS ABOVE:
1) Classic Design Homes owner and Eastern Montana College Alumni Mark Dawson (left) and Doug Wild, general manager of Classic Design Homes, discuss the blueprint drawing of a 2,658 square-foot home being built by five City College students enrolled in the Construction Technology-Carpentry.
2) Carpentry Construction Class
3) Brady Henderson