University Communications and Marketing
Skills USA Club offers free winterization inspection
December 12, 2013
Contacts:
Aaron Clingingsmith, University Relations, 657-2243
Let the students in the City College automotive technology program and Skills USA Club winterize your vehicle.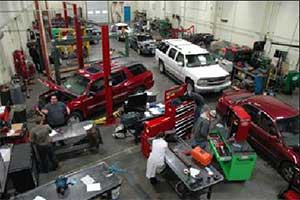 MSU BILLINGS NEWS SERVICES — Students in the City College at MSU Billings SkillsUSA Club will offer a free vehicle winterization inspection on Saturday, December 14 from 10 a.m. until 3 p.m. The community can bring their vehicle in to be evaluated for battery condition, safe tire pressures and conditions, proper fluid levels (including coolant), belt and hose inspection, and recommendations as needed.

"This event is an opportunity for our students to strut their stuff following the conclusion of fall semester," noted automotive technology instructor, Katherine Pfau. "City College has one of the best facilities in our region for teaching and we want to share it with our community whenever possible."
Although the Skills USA Club is offering the winterization inspection at no cost they will be accepting donations to help defer the cost of competing in the Montana SkillsUSA Competition. SkillsUSA is a partnership of students, teachers and industry professionals working together to ensure America has a skilled workforce. The 2014 state competition will be held on the MSU-Northern campus April 7-9.
For more information about this weekend's vehicle winterization event contact Katherine Pfau at 247-3044 or Stacey Williamson at 247-3008.

Get flyer
PHOTO ABOVE: Auto repair lab, City College at MSU Billings