University Communications and Marketing
Percussion Ensemble presents Spring concert
April 16, 2013
Contacts:
Department of Music, 657-2350
Aaron Clingingsmith, University Relations, 657-2269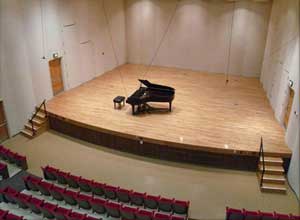 MSU BILLINGS NEWS SERVICES — The Montana State University Billings Percussion Ensemble will present its Spring concert Monday, April 22, 2013 at 7:30 pm in Cisel Recital Hall. The Ensemble will perform works by Wagner, Brostrom, Udow and more. Admission to the concert is $5.00 for Adults, $3.00 for Seniors & Students. MSU Billings faculty and students with ID are admitted free. Please contact the Music Department at 657-2350 for more information.
For more information on the concert or the music offerings at MSU Billings, call 657-2350 or go to www.msubillings.edu/cas/music/.
PHOTO ABOVE: Cisel Recital Hall will host percussion ensemble next week.