University Communications and Marketing
45th annual MSU Billings Powwow starts Friday
April 1, 2013
Contacts:
Reno Charette, Director American Indian Outreach 657-2144
Aaron Clingingsmith, University Relations, 657-2269
MSU BILLINGS NEWS SERVICES — The pageantry of the 45th annual Montana State University Billings Powwow will commence Friday, April 5 at 6 p.m. and continue through Saturday, April 6. Tribes from around Montana will gather at Alterowitz Gymnasium to join in dancing, singing, and visiting while renewing old friendships and making new ones.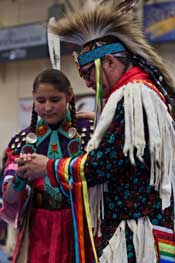 Entrance is free, T-shirts and other items will be sold to help fund projects and scholarships through the American Indian Outreach office at MSU Billings. Vendors from across the region will also be on hand in the main floor with a variety of American Indian items for sale.
Powwows across the country strive to renew the culture and preserve the rich heritage of American Indians, said Reno Charette, Director of American Indian Outreach at MSU Billings. Students, faculty and staff have joined efforts to make this powwow one of the biggest student-led American Indian events in the Northwest.
Grand entry is set for Friday at 6 p.m. and Saturday at noon. The grand entries will be led by dignitaries from throughout the area. Head Woman Dancer is MSU Billings student Heather Takes Horse. The Head Man/Gourd Dancer is Burt Medicine Bull, an MSUB Alumnus. The Arena Director is Terry Brockie, MSUB Alumnus, and the announcer is Tuffy Helgeson, both are from Fort Belknap.
For more information visit www.msubillings.edu/powwow.
PHOTOS ABOVE: MSU Billings Powwow 2012