University Communications and Marketing
MSU Billings faculty member and poet wins Artist's Innovation Award
December 2, 2011
Contacts:
Tami Haaland, Associate Professor of English, 657-2948
Dan Carter, University Relations, 657-2269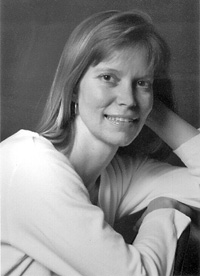 MSU BILLINGS NEWS SERVICES — Tami Haaland, a noted poet and associate professor of English at Montana State University Billings, was recently awarded an Artist's Innovation Award from the Montana Arts Council.
Haaland was one of 11 Montana artists to be honored for innovation and creativity through as part of the 2011 Artist's Innovation Award. The award is made possible by funding from the National Endowment for the Arts and carries a $3,000 prize.
An award-winning poet and writer, Haaland has won accolades for the past decade. Her poetry collection, "Breath in Every Room," won the Nicholas Roerich Prize. Her work has appeared in journals such as, High Desert Journal, Letters to the World, Calyx, 5AM, Clackamas Review, and Rattapallax. Her work has also appeared in anthologies such as the "Best of Pif Off-Line" and "Ring of Fire: Writers of the Yellowstone Region" and on Garrison Keillor's "Writer's Almanac."
She is also the editor of Stone's Throw Magazine, an online literary journal.
About her writing, Haaland says, "There is no question that I want to learn as much as I can about poetry, which is a long study and a life-long pursuit."
Haaland's arc of artistic innovation has included embracing possibilities.
"In recent years I have deliberately expanded the range of my writing by experimenting with form, narrative, ellipsis, and segmentation," she said. "I regularly teach myself new forms or pose questions that guide my work."
"When I approach a traditional form I will often write in that pattern during the span of a week or two in order to internalize the pattern and begin to understand how it works," she said. "Once I understand the form in this rudimentary way, it may reemerge in my work when I least expect it, or I may deliberately revisit the pattern."
She also said she poses questions to herself to see how far she can push her writing. Can she omit parts of a narrative without losing the narrative all together? Can she write a grieving voice without giving way to grief? How many narratives can coexist without cancelling each other out?
Because of her innovative style and because Haaland addressed her evolution as a poet very clearly, the Montana Arts Council award panel noticed an arc and huge growth in her work. The panel also said Haaland has less external influences and looks inward for innovation. They were struck by the honesty of her work and "her ability to treat sometimes-common subjects in poetry in ways that are fresh and have a powerful impact."
To find out more about the English, Modern Languages and Philosophy programs at MSU Billings, go to www.msubillings.edu/cas/engphil/ or call 657-2348. To contact Haaland, call 657-2948 or email her at thaaland@msubillings.edu.
PHOTO ABOVE: Tami Haaland