University Communications and Marketing
Allied Health dean advances healthcare on many levels
July 9, 2010
Contacts:
Dr. Diane Duin, College of Allied Health Professions, 896-5841
Dan Carter, University Relations, 657-2269
Innovative programs educate students for high-growth professions ranging from health care administration to wellness and athletic training
MSU BILLINGS NEWS SERVICES — Like the students who take the various classes in her college, Diane Duin knows that healthcare occupations come in all shapes, sizes and acceptable levels of blood-letting.
Not everyone has the personal affinity for helping stitch up kid's hand or setting a broken bone, Duin says. And that's perfectly OK with the new dean of the College of Allied Health Professions at Montana State University Billings.
"We're the non-blood-and-guts college," she's fond of telling prospective students and community members.
Duin, who had served as director of the CAHP's health administration program since 2008, was recently named the academic of the college. She replaces Dr. David Garloff, who retired a year ago.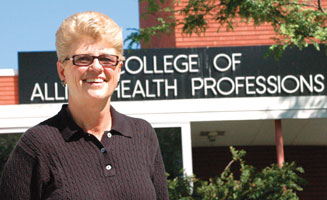 Duin came to Billings from South Dakota where she worked at the University of South Dakota, but also worked for the Presentation Health System in Sioux Falls. She co-chaired the Center for Rural Health and Economic Development where she helped communities make planning decisions based on their unique healthcare needs.
"I understand how difficult it is to get physicians into rural areas," she said.
Eventually, she fell in love with the academic area of healthcare, especially the management setting. She joined MSU Billings to advance the university's graduate level health administration program.
The College of Allied Health Professions is the youngest of the five academic colleges at MSU Billings and provides undergraduate and graduate education in a variety of healthcare fields, some of them the fastest-growing fields in a continually growing industry. Roughly 600 students are declared majors in the college preparing for careers in health promotions, athletic training, health administration, physical education as well as rehabilitation and mental health counseling.
In a city with three major medical facilities, many long-term care facilities and scores of specialty offices, those educational offerings have real impacts for Billings.
"When it comes to healthcare education, everyone thinks about nurses and doctors until they get to the heavy chemistry and biology part of it," she said. "That may not be for everyone."
Allied health professions programs at MSU Billings take healthcare education to different levels, Duin said. There is a healthy dose of science, to be sure, but it is combined with the application of service that many students find intriguing.
"The cool thing is when students discover something that they didn't know they liked," she said.
And there is plenty to like.
According to the U.S. Bureau of Labor Statistics, 10 of the 20 fastest growing occupations in the United States are healthcare related and the industry is expected to generate 3.2 million new wage and salary jobs by 2018, more than any other industry, largely in response to rapid growth in the elderly population.
In the Billings area — where the healthcare workforce is estimated to be about 10,000 people strong and growing — the careers go beyond physicians, nurses and specialists. One of the greatest areas of need lies in management areas. And with a growing elderly population, more training will be needed in long-term care management.
To help meet that need, Duin developed a 12-credit Long-Term Care Management Certificate program that starts this fall. The program is designed for individuals who are currently working in nursing homes or other long-term care facilities who want to step into management positions. Nurses, social workers and others who want to move into management might also be interested, Duin said.
"What typically happens is that people get into the role as manager by accident," she said. "They are great at their job, but then they start to ask 'What do I know about hiring, firing and managing people?' They need that management background combined with their clinical knowledge to be successful."
The program takes students through upper-level classes on health law and ethics; the exploration of aging in America; financial management and budgeting; management of healthcare organizations; and managing the continuum of long-term care services.
All of the courses are available online, which allows potential students the ability work while they are upgrading their education.
Grant funds from the Montana Office of Commissioner of Higher Education helped develop the program and registration is now open for the class.
A fan of collaboration and partnerships, Duin is also starting a new program this fall with Rocky Mountain College that will allow students at Rocky to earn both a bachelor's degree in exercise science and a master's degree in athletic training at MSU Billings in just five years.
The 3-2 Athletic Training Articulation Agreement allows students who are successfully completing their first three years toward a bachelor degree at Rocky to apply to the Master Degree in Athletic Training at MSU Billings.
Upon acceptance by the AT program, the student will begin at MSUB in the fall of his/her fourth year of college. After matriculation and successful completion of the first summer, fall and spring semesters in the AT program, the student will earn his/her Bachelor of Science degree in Exercise Science from Rocky. Following successful completion of all courses and requirements for the Masters in Athletic Training degree (generally at the end of the fifth year of college), the student will graduate from MSU Billings with a master's degree in Athletic Training. The student will then be eligible to sit for the Board of Certification exam.
"These will need to be self-motivated and disciplined students," Duin said because of the workload and academic rigor.
But identifying undergraduate students who can handle the program and be successful in their careers helps them get through their college programs quicker and serves the workforce needs of Montana.
In the coming years, Duin said she hopes to develop similar partnerships and collaborations with tribal colleges. Online delivery of most of the classes helps working adults and can open new doors for American Indian students who want to transition into graduate-level programs in areas such as rehabilitation and mental health counseling.
She also wants to develop stronger associations with alumni and build a student advisory group that will help guide planning and development for the college.
"The college has only been around since 2005, so it's important to stay connected – with the community and with students," she said.
To find out more about the new Long-Term Care Management Certificate or other programs at the College of Allied Health Professions, go to www.msubillings.edu/cahp or call 896-5833
PHOTO ABOVE: Dr. Diane Duin, who joined MSU Billings in 2006 as director of the Health Administration Program, was recently named dean of the College of Allied Health Professions.