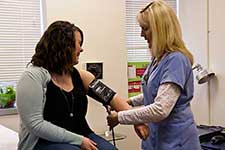 Welcome to Montana State University Billings Student Health Service. Students who are enrolled for 7 or more credits are able to use our clinical services at no extra charge. We offer routine and urgent care appointments with our highly experienced Nurse Practitioners and Physician Assistants. Registered nurses are happy to assess the needs of students for urgent care concerns or advice when office visits are not available.
Hours
MSUB – University Campus
8:00-5:00 M-F
Provider office visits:

Available by Appointment
Telehealth virtual visits are available fall semester 2020.
City College
Registered Nurse Hours:
Monday 10-2
Tuesday 10-2
Wednesday 10-2
Thursday 9-2
Services
Clinical services are offered for the treatment of many general health conditions. These include, but are not limited to:
Annual Examinations
Asthma/Allergies
Birth Control Counseling
Depression/Anxiety
Med Management-Mental Health
Pain
Physicals – Sports, ROTC etc.
Rashes
STD/STI Screening
Sleep Disturbances
Sore Throats, Colds
Splinting – Crutches
Sprains/Strains
Urinalysis UTI, Pregnancy
Wounds
Services Offered with Additional Cost to the Student:
Allergy Shots
Immunizations: TDAP, MMR, Flu Shots
Pap Smears
Prescriptions
Tuberculosis Screening - PPD
Strep Test
Mono Test
Pregnancy Test
Urinalysis UTI
Referral Services:
EKG
Lab
Radiology/Xray
Specialists

-99% of students surveyed were satisfied or very satisfied with their visit
-98% of students surveyed would recommend the health service to other students
2018-2018 ACHA Patient Satisfaction Assessment Survey (n=169)