Accommodations
One of the goals of the NEH workshop is to build community and networks among the Summer Scholars. NEH Summer Scholars are strongly encouraged to stay at on the campus of Montana State University Billings. Arrangements have made for scholars to stay in the dormitories on campus at an affordable price.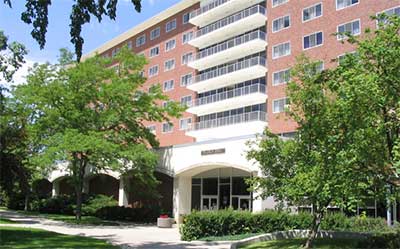 Specifics
Double and single occupancy rooms are available and include linens, pillows, blankets, and towels. Free WiFi is provided. Communal bathrooms and showers are available on each floor. The climate in Billings at this time of year ranges between the mid-70s to lower 80s during the day, with night time temperatures dropping to the 60s. All rooms will be located on the north side of the building out of the sun. The rooms are not air conditioned. Fans are available upon request. There is laundry service available on each floor and can be accessed 24 hours per day. Cost is $1.00 per wash and $1.00 per dry. There are kitchenettes on each floor equipped with a stove, microwave and sink. Cost is $29/person/night for a double and $34/person/night for a single. To learn more about this option please refer to the Summer Conference Guide.
There are other hotels and motels in the general vicinity so you are free to choose other accommodations.
Meal Options
Arrangements have been made for scholars to eat meals at Rimrock Dining located in the dormitories. Scholars will be able to eat meals at a discounted price.
Reservation Information
NEH Summer Scholars are responsible for making their own housing arrangements for the workshop. The dorms will be available the night before the workshop begins with the option of staying the night of the last day. To make a reservation please call 406-657-2333. All housing reservations need to be made by May 20, 2019.
Travel
NEH Summer Scholars are encouraged to make their travel arrangements early as prices for flights to Billings fluctuate during the summer months. Billings Logan International Airport is a small hub, commercial service airport. It provides non-stop service to ten major cities (Chicago, Dallas, Denver, Las Vegas, Los Angeles, Minneapolis/St. Paul, Phoenix, Salt Lake City, and Seattle). It is served by three major airlines—United, American Airlines, and Delta, and two regional airlines—Allegiant and Alaska/Horizon Air.
Billings Logan International Airport is directly north of the Montana State University Billings campus—approximately five minutes. Scholars would have to make arrangements for their own transportation to the campus.
Additional Information
Stipends/Income Taxes: Stipends related to seminars and institutes are considered taxable income. Stipends are intended to help cover travel expenses to and from the seminar or institute location, books, equipment and other research expenses, and living expenses for the tenure period of the seminar or institute. These expenses may be deductible, and so proper records and receipts should be kept by the participant. NEH does not give tax advice, and we suggest that you consult a tax advisor if you have any tax questions.
Full-Time Study and Tenure: NEH Summer Institute stipend recipients are expected to attend all meetings and devote full time to the activities for which the stipend was awarded during the announced period of the project. A stipend recipient may not accept a teaching assignment or undertake another major activity during the tenure of the award. Those who, for any reason, do not complete the full tenure of the project will receive a reduced stipend.
Academic Materials: We highly recommend that you bring a laptop where you can store your reading materials, take notes, and prepare your lesson plan or curricular materials. Since you will need to keep a journal of our trip, you might either do that digitally or bring a paper-based journal for writing by hand. For those who are artistic, your journal might double as a sketchbook. A good camera (a good quality digital phone camera is acceptable) will be important for recording your visits to sites, museums, and dramatic landscapes.
We ask for an enthusiastic intellectual engagement that includes: 1) doing the required readings, 2) participating in discussions, 3) asking questions of our interpreters and educators, 4) taking photos, possibly making sketches, and creating a journal of the educational tour that reflects on the readings and daily activities, and, finally, 5) completing curricular materials that relate to the topics, sources, and methods we are highlighting in the Institute.
Project Materials: An outline for your new curricular materials must be submitted at the end of the institute, and the final lesson or unit must be shared by September 30, 2019. Similarly, the journal may be left with the Directors as you depart from Billings, or it may be submitted by mail or electronically by the end of September. NEH Summer Scholars will be encouraged to collaborate with one another to create the new curriculum, such as an interdisciplinary project or one that is scaffolded for two different grade levels, but we will also happily accept individual projects.
Practical Items:
Comfortable shoes for walking are essential for this Workshop. We will be walking around national and state parks, reservations and museums. Applicants to this program should be realistic about their own levels of stamina for participating. A hat or sun visor and sunglasses will also be welcome additions to the suitcase. Be sure to bring both sunscreen and mosquito repellent. Temperatures in eastern Montana average in the mid-70s to mid-80s in late June and early July, so bring clothing (casual) that will be suitable for warm weather but perhaps also a sweater/fleece or light jacket for night-time wear, as night-time temperatures fall into the 50s.
A day pack would be a good idea for carrying your academic materials, snacks, and other practical items.
Travel to the landmarks, national and state parks, and museums will be on an air conditioned coach bus. This will be a great opportunity to build collegiality within the group. Furthermore, some presentations will be made on the bus as we approach some of our stops, thus we require that all Summer Scholars take the bus and not seek other transportation options.
Medical needs. There will be a first-aid kit on the bus. If you have medical needs, please make sure you make those arrangements for yourself. For example, you might require an Epi-Pen for insect bites. Please bring your own.
Recognition: All NEH Summer Scholars who complete the program and the projects listed above will receive a certificate of completion documenting hours spent and the nature of the work. More information to come.
Evaluation: All NEH Summer Scholars are required to evaluate their experience and report on their activities and accomplishments under the award. Participants will report at the end of the Institute on online forms provided by the Endowment.
Dismissal from the Program: All NEH Summer Scholars are expected to conduct themselves in a professional manner at all times. This requires a respectful attitude toward fellow participants, faculty, guest lecturers, and others in all settings (program sessions, field trips, etc.). Unprofessional behavior will not be tolerated and egregious or repeated violations of this principle will be considered grounds for dismissal from the program at the discretion of the Project Directors. Reasons for dismissal may include, but are not limited to, repeated absences from scheduled activities and disruptive or threatening behavior. Consult the NEH Principles of Civility, here.
This institute is being funded by the National Endowment for the Humanities.

Any views, findings, conclusions, or recommendations expressed in this web resource do not necessarily represent those of the National Endowment for the Humanities.