MSU Billings Jazz Festival
Wayne Bergeron, 2016 Guest Artist
Wayne Bergeron is enjoying a career as one of the most sought-after musicians in the world. Studio sessions, film dates, international touring, jazz concerts, guest appearances, and clinics keep him busy not only in his hometown of Los Angeles, but worldwide.
Born in Hartford, Connecticut in 1958, Bergeron came to Los Angeles at age one, so considers himself a native Californian. Originally starting on French horn, he switched to trumpet in seventh grade and found he had natural upper register ability. Bergeron credits his junior high and high school teachers, Ron Savitt and Bob Smith, for molding his talent into practical working skills.
Bergeron first caught the ear of many when he landed the lead trumpet chair with Maynard Ferguson's band in 1986. Bergeron can be heard on Maynard's recordings of "Body and Soul," "Big Bop Nouveau," "Brass Attitude," and "The One and Only Maynard Ferguson." Bergeron demonstrates daily why Maynard remarked, "Wayne is the most musical lead trumpet player I've had on my band."
As a sideman, Bergeron's list of recording credits reads like a who's who in contemporary jazz and pop, running the stylistic gamut from Ray Charles to Green Day. Other names include Beyoncé, Barbara Streisand, Michael Buble, The Dirty Loops, Seth MacFarlane, Natalie Cole, Celine Dion, Seal, Diana Krall, Tito Puente, Christina Aguilera, Dianne Reeves, Michael Bolton, Earth Wind & Fire, The Pussy Cat Dolls, My Chemical Romance, The Mars Volta, INXS, Chicago, Rosemary Cloony, Diane Schuur, Barry Manilow, Lee Ann Womack, Lou Rawls, Eric Marienthal, Kenny G., and David Benoit.
Bergeron has worked on over 350 TV & motion picture soundtracks. A partial list of film credits include Frozen, Get On Up, Toy Story 3, Monsters University, Planes, Despicable Me 1 & 2, Cars 2, Charlie St. Cloud, High School Musical 3, Pink Panther 2, Marley & Me, Get Smart, Superman Returns, The Simpson's Movie, Dreamgirls, Hairspray, Mission Impossible 3, Ice Age 2, Spiderman 1 & 2, Team America, Catch Me if You Can, and South Park.
Bergeron's featured trumpet solos can be heard on the motion pictures Ted 2, Minions, Jersey Boys, The Incredibles, Rocky Balboa, The Green Hornet, The Interview, Smurfs 2, Despicable Me 2, Duplicity, Leather Heads, Princess & the Frog, The Perfect Game, High Crimes, Rounders, Fled, Hey Arnold (the movie), The Life Aquatic, The Rat Pack, Child Star, Illegal Tender, Aladdin King of Thieves, Foolproof, and Two Days in the Valley.
Numerous TV credits include Academy Awards, Golden Globe Awards, SAG Awards, NBC, ESPN & TNT sports themes, Entertainment Tonight Theme, American Idol (2001-02), Emmy Awards, Grammy Awards, Latin Grammy's, Family Guy, American Dad, The Cleveland Show, The Goode Family, Jeopardy, America's Funniest Home Videos, Phineas & Ferb, Emperor's New School, Mouse Works, Have a Laugh, House of Mouse, King of the Hill, Futurama, Buzz Lightyear, Hercules, Disney Mickey Mouse Shorts, and Hey Arnold.
Bergeron's passion for big bands has led to his inclusion in some of Los Angeles' most well-respected bands. He has recorded and played with Quincy Jones, Gordon Goodwin, Arturo Sandoval, Pat Williams, Sammy Nestico, Jack Sheldon, Chris Walden, Tom Kubis, John La Barbara, Bob Florence, Ray Anthony, Bill Watrous, Bob Curnow, and more recently Vince Mendoza's re-creation of the Gil Evans/Miles Davis recordings featuring Terance Blanchard and Sean Jones.
After being behind the scene for so many years,Bergeron stepped out on his own with his first solo effort, "You Call This a Living?" This debut project earned him a Grammy nomination in 2004 for Best Large Jazz Ensemble, as well as rave reviews from fans and press worldwide. Bergeron's second CD, "Plays Well With Others," released on the Concord Jazz label in 2007, was met with the same acclaim. Bergeron is excited about his new CD project, which will be released in 2016.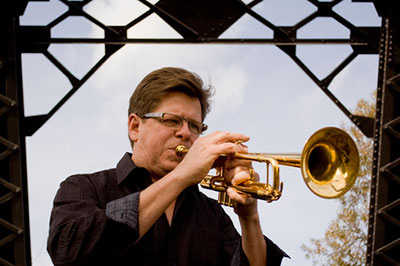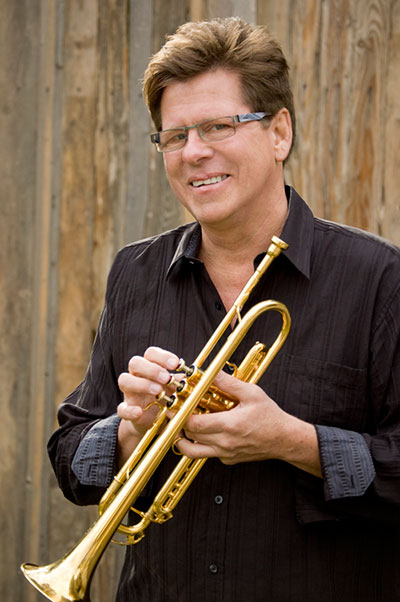 Bergeron has been principle trumpet at the Pantages Theatre for over 15 years and is regularly featured with the Hollywood Bowl Orchestra. He has done guest appearances with the L.A. Philharmonic, The New York Philharmonic, and the Cleveland Orchestra.
Bergeron is a National Artist for the Yamaha Corporation of America and is co-designer of the YTR-8335LA trumpet and YFH-8315G Flugelhorn. Bergeron also designed a series of trumpet mouthpieces with Gary Radtke of GR Technologies that are available through Bergeron's website.
Bergeron was mentored by legends like Uan Racey, Bobby Shew, Warren Luening, Gary Grant, Rick Baptist, and George Graham. He hopes to inspire a new generation of young players and enjoys his work as a clinician and educator. "Nothing makes me feel more accomplished than hearing a young musician say that I inspired them or had a positive influence on their life. For me, that's the real payday." Bergeron is currently on faculty at California State University Northridge.
Maybe Grammy winning composer and bandleader, Gordon Goodwin said it best, "Wayne is a once in a lifetime lead trumpet player."