Intercultura is a language and cultural institution that is dedicated to achieving linguistic proficiency with cultural immersion and intercultural education. Their motto is: "Learn the language, live the culture." Intercultura's primary goal is to teach languages in a warm yet intellectually engaging environment. Participation in this intensive language and cultural immersion program not only teaches students a new language but also provides them with effective tools for communication and understanding the evolving world in which we live.
Intercultural has two campuses students can choose from, and if desired, students can go between both campuses during the study abroad. Classes can be tailored to students' language levels and interests, depending on language proficiency.
---
Testimonial

"My favorite parts were speaking Spanish and learning all about the culture. I absolutely loved trying all sorts of different foods and fruits."

Emily Toennis, Intercultura Study Abroad, Summer 2018
Read program testimonials!
---
Academic Year
Classes start every Monday except for the weeks of Easter and Christmas, or if a local holiday falls on Monday. This program is set-up on a weekly basis, making it very easy to work with tight or irregular schedules. MSUB students generally study at Intercultura for an entire semester, bringing back around 15 Spanish language credits. Students also can choose to study in the summer from several weeks to 3 months.
Courses
Classes consist of groups of students from 1-6 per class from but most of the year, the average is 3-4. During their high season (January- February, June-August), 5-6 per classroom is more common. Classes are offered 20 hours per week, Monday through Friday (unless there is a holiday). Students are placed in classes based on their level of language proficiency. For those who are at a high proficiency, advanced classes are available. All Spanish classes are taught only in Spanish.
For an additional charge, students can also take advantage of one-on-one intensive Spanish language instruction, in addition to the group classes. This set-up allows students to have a greater impact and receive more credits in a shorter amount of time.
Learning Spanish is the primary focus but at one of their locations, Portuguese an additional option offered to students.
Learn more about the Spanish language immersion program.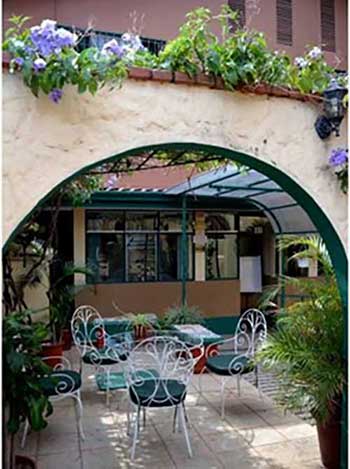 Heredia Location
One of the locations that is available to students is located in Heredia, which is a city next to the capital, San Jose. The campus is a building located in the middle of the city and offers classes to students in the morning or in the afternoon.
This particular campus offers their students easy access to variety of places of entertainment by foot or natural beauty just a few minutes away by transportation. This location also offers their students language classes in Spanish but also offer classes in Portuguese.
Get more information about the Heredia campus.
Samara Location
The other location is located in a providence known as Guanacaste. Samara is more of a tranquil, small beach town that has a rural sort of lifestyle.
The campus is located right next to the ocean and has air conditioned classrooms. Sometimes the teachers hold their classes outside in the gardens located on their campus.
Get more information about their Samara location.
Accommodations
Intercultura offers both homestay and apartment accommodation options for students. For the homestay option, you will have your own room, access to a bathroom, and two meals prepared per day.
The apartment option is only available at the Heredia campus. The apartments are fully furnished and offer free wifi, all kitchen equipment, sheets and towels. The apartments open out to a shared roof terrace with a view of the city and the mountains, and there is shared laundry area. The apartments are on the second floor above the classrooms.
The Samara campus offers a student residence, which has 5 bedrooms (of varying sizes, from 2 to 5 beds). Students can rent private or shared rooms, all of which are equipped with A/C, and a private or shared bathroom.The residence is right next to the school campus and Samara Beach.
The communal social areas include: Fully-equipped kitchen; washing machine; large, breezy social area with deck-chairs, hammocks and communal dining tables; a big, grassy, fenced-in yard; outdoor shower and secure parking.
Intercultura Costa Rica Spanish Schools - Homestay Spanish Immersion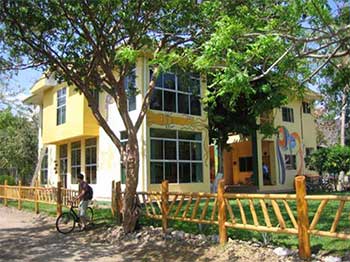 Costs
Intercultura offers different prices for its Spanish learning program, depending on the amount of hours you would like to spend in the classroom as well as in which location you prefer to study. Prices are based upon weekly rates and students who study longer pay less per week.
The most popular option is for one semester of study at the main campus (Heredia) for $240 per week ($3,600 per semester - 15 weeks). Most students only study at the Samara campus for 1-2 weeks during their time with Intercultura; the rest of their study is at the Heredia campus.
Accommodation costs also vary. Below are some estimates for Room and Board.
| | | |
| --- | --- | --- |
| Heredia Homestay | $2,835/15 wks | +2 meals/day, laundry |
| Heredia Apartment | $2,768/15 wks | No meals |
| Samara Residence | $22-$62/night | No meals |

Get more information about costs.
Visa
Students do not need a visa to enter and study in Costa Rica for less than 6 months. However, students must have a current valid passport and a return ticket to exit Costa Rica (either to return to your country or to go to another country). U.S. passport must be valid for a minimum of one day from the day you enter Costa Rica. If students study at Costa Rica for longer than 6 months, they will need to apply for a Costa Rican visa. Please consult with the Study Abroad Manager for guidance.
Health Insurance
To ensure comprehensive and quality coverage, all study abroad students are required to enroll in insurance that is provided through the designated Montana University System insurance provider. Please consult with the Study Abroad Coordinator for further information. This insurance is affordable with a typical semester averaging about $250.